To celebrate summer season,
Rocket League will be hosting the Radical Summer event for the next few months.
Here's everything you need to know about Radical Summer Event 2019 and what's happening next on Rocket League in 2019.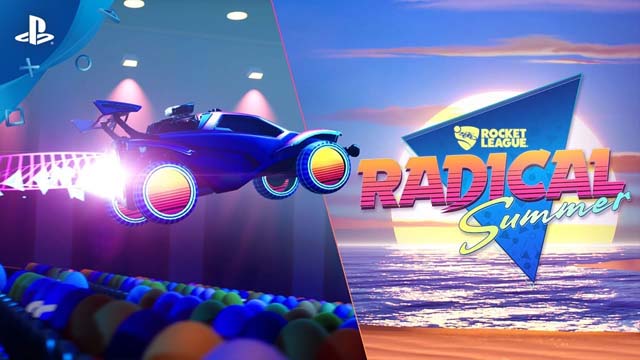 Summer Event with Limited-Time Events
Radical Summer is the largest in-game event in Rocket League's four-year history and kicks off on June 10. the event will last nine weeks and will feature an assortment of free items, new Premium Licensed DLCs, limited-time game modes, and more! Radical Summer is split into three different '80s celebrations: Blockbusters, Culture, and Television. Here's how the event breaks down:
'80s Blockbusters
On June 10, Radical Summer starts with iconic film tie-ins. This includes the release of the Ghostbusters Ecto-1 Car Pack for $2. It includes Ray Stanz's family friendly hot rod as well as other themed items you can add to different cars. Those include a cosmetic that makes your car look like it's firing a proton pack, a slimer topper, and the Ecto-1 wheels.
Sticking with Ghostbusters, Psyonix will also launch the Ghost Hunt mode. This is a 3-on-3 where players use a proton stream to capture the ball. You then need to put it in the other team's containment zone.
Other movies that should show up during this period include Back to the Future, E.T. the Extra-Terrestrial, The Goonies, and Karate Kid.
'80s Culture
On July 1, movies are over, and it's time for the Iran Contra Affair to come to Rocket League. Psyonix is actually planning to unveil a plethora of new items based on '80s cultural icons. It hasn't detailed any of those yet, but I'm pulling for Oliver North.
In addition to the new items, you can also participate in the new 3-on-3 Spike Rush mode. This gives each player the capability to grab a ball with retractable spikes, so you can carry it up the field like Bo Jackson.
'80s Television
Finally, Rocket League is joining forces with some of your friends from the glowing cathode-ray tube on July 22. You can get the Knight Rider Car Pack, which includes the talking car K.I.T.T. You can also participate in a Beach Ball Game Mode, which features 2-on-2 fights and a lot of curveballs. Hopefully, Psyonix is also working on the technology to make the cars high-five.
To help players level up faster, during the event, XP Level Up Packs are in the event store for sale as well (a Rocket League first)! That means that players will be able to redeem event currency for XP Level-Up Packs that grant 10 Tier Points for Rocket Pass -- allowing players to boost your Rocket Pass Tiers in a super-fast and super-convenient way!
Rocket League's Summer 2019 Roadmap
Party-Up System, Inventory Management, and Trading
The functionality of party-up with strangers following a good match will be coming later this year. Soon, you'll be able to easily party-up with teammates from the post-game screen.
Inventories are growing too, and that calls for better ways to organize all of your in-game items. In addition, additional inventory management tools will also be added via a future update.
Finally, the game developer promises to make a number of under-the-hood, quality-of-life updates to the trading system in the game later this year.
RLCS Season 7 World Champion Incoming!
The RLCS Season 7 World Championship at the Prudential Center in Newark, NJ is just around the corner and tickets are selling fast, offering players a chance to catch all the live action from the world's best Rocket League teams. Also, Competitive Season 10 ends on Monday, May 13, and full details will be revealed next month.
That's all you need to know about Rocket League Summer 2019. So stay tuned to
5mmo.com
. Not only can you get the latest updates and news on Rocket League, but also you can buy
Cheap Rocket League Items
, Crates and Keys.