Twitch Prime has announced a new series of loot drops for Tom Clancy's The Division 2, available exclusively for Prime members. R
ight now, members can unlock the Spears baseball apparel bundle and baseball mask. Three additional in-game loot bundles will drop on July 23, August 22 and September 24.
If you're subscribed to Twitch Prime and want the in-game goodies, all you need to do is to link an Amazon Prime subscription to your Twitch account. Click on the Twitch Prime crown on the streaming site's homepage and you'll be directed to the Amazon website. Log in to your account and you should be prompted to link the pair. Once you do, you'll get content for a number of games including Warframe, League of Legends and Runescape.
The first batch of loot are some cosmetics for the fictional Washington Spears sports team, including a cap, jacket, shorts and shoes, alongside a baseball catcher's mask. You can get a look at them in the image below.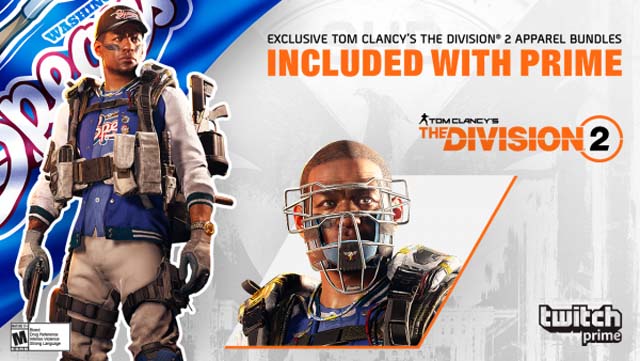 There are three more loot drops beyond this one, but we don't know yet what those will be. All that we know is that they're all different types of in-game loot and they are listed as "coming soon" according to the Twitch Prime page.
As a reminder, Twitch Prime is included with all Amazon Prime memberships. Additional ongoing offers include 12 months of Nintendo Switch Online, along with content for Call of Duty: Black Ops 4, StarCraft II, League of Legends, World of Tanks and more!
And there's still time left to grab June's Free Games with Prime, which includes Aegis Defenders, Stikbold, 10 Second Ninja X and Metronomicon.
Don't forget: you can still get in on 12 months worth of Switch Online for free if you have Twitch Prime.
By subscribing to twitch prime, you can watch streams without viewing adds, one channel subscription to use every month, and in-game skins and loot. If you're already signed up to Amazon Prime—which costs $120 a year or $13 a month—you can activate Twitch Prime
here
.
So, if you are a prime Twitcher, grab the loot now!
For more news and updates on The Division 2, stay tuned to
5mmo.com
, a professional in-game currency store for
Cheap The Division2 Credits
.