The FIFA 19 New Campaign " Road to The Final" Explained And How to Get Champions League Road to The Final Players
Recently, EA is promoting the
new FIFA 19 campaign as a "first time ever" and "limited time only" event, tiled Road to The Fina
l, offering players a new way to enjoy the popular football game on their console of choice. So for a limited time,
Champions League and Europa League Dynamic Player Items
will be available for players and gamers can upgrade them based on the success of the player teams in each competition.
There's 21 UEFA Champions League Dynamic Items as well as four of them for UEFA Europa League.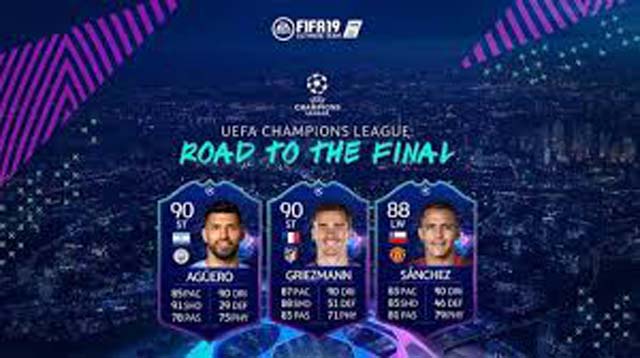 There are many superstars featured in the campaign. For example, Real Madrid's Karim Benzema, Manchester United's Jesse Lingard, and Manchester City's Sergio Aguero. More recently, Manchester City' s Raheem Sterling is officially added to the Road to the Final items available in FIFA 19's campaign after he showed his value in the Manchester City victory over the Red Devils, 3-1 last Sunday.
FIFA 19 FUT Cards Campaign Upgrades
All Road to the Final live items start with an in-form upgrade at the beginning of the event. Rather than upgrading due to their individual performances, the players increase as their team progresses through the rounds of the Champions League, even if the player does not play in the match. Upgrades are available for advancement through the group stage, the round of 16, the quarter-final, the semi-final, the final and for winning the final. A maximum of seven upgrades for each player is available throughout the season.
Should a player's team finish third in a Champions League group and be dropped to the Europa League knockouts, they will not be given +1 upgrade for advancing to the knockout rounds and the item will be changed to a UEFA Europa League Road to the Final item, though the player can still be upgraded by advancement from that stage of the Europa League.
No upgrades will be available for players once they are knocked out of the European competitions, so gamers will have a vested interest in the real-life success of their players in European competition.
How to Get Champions League Road to the Final Players in FIFA 19
Of course, as is usually the case with FIFA 19 promos, the clearest way to get players is from packs. Any gold pack will offer the chance of packing them, but you' ll probably need to open quite a few to do so since they' ll be rare. Alternatively, you can buy Champions League Road to the Final players from the transfer market. Of course, since they' re upgraded versions of players like Sergio Aguero, you' re going to need a lot of coins. For more
Cheap FIFA 19 Coins,
Come to our website:
5mmo.com
, a safe, cheap online in-game currency store. Also, since they all have Champions League cards already that count as Special cards on the market, they might not be that easy to find at a reasonable price.
While there are no SBCs that grant a Champions League Road to the Final player, there are three that are themed around the Promo. They' re all very simple and grant small packs rewards. For example, one requires a Bayern Munich or Chelsea player (to mark their historic final) and two Champions League common players. We will be sure to update you here if any other SBCs are released.