Recently Netmarble revealed a new Uncanny X-Men update coming to MARVEL Future Fight, the mobile action RPG.
The new update will adds three more Uncanny X-Men. They are are Iceman (Modern), Jubilee (Classic), and Bishop (Disassembled) in new missions to unlock new skills, uniforms, and more
.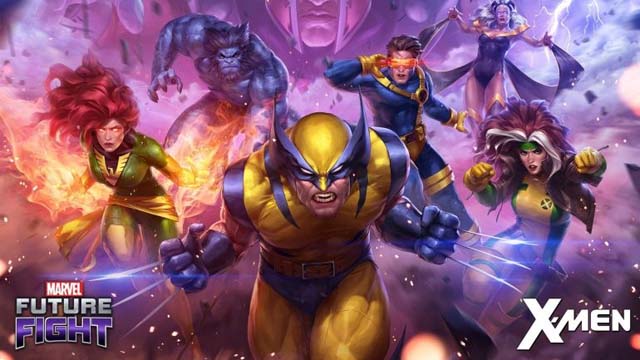 In addition, Marvel Future Fights players can also collect several new X-Men uniforms for some other previously available characters, including X-Men Red uniforms for Storm and Jean Grey, a new Disassembled uniform for Psylocke, and a new Uncanny X-Men uniform for Beast.
Along with the new characters, a new feature introduced in a recent update is the "Uniform Ranking System." Here, players are able to get a quick look at popular uniforms, and with the "Uniform Dibs" function, be able to identify the uniforms that they want to buy.
The update also includes a new S.H.I.E.L.D Academy Mission and guide, along with a shortcut function for players to complete the mission quickly. In addition to X-Men characters Iceman, Jubilee, Bishop, Jean Grey, Storm and Beast now have unlocked the "Unleash Potential" functionality. Players can now upgrade the Super Hero Jean to Tier-3, and, once completed, get access to new ultimate skills.
Along with the updates, comes other new changes, as you can see below:
New Dimension Rift: [Mutant from the Future] Bishop
A brand-new stage to the Dimension Rift that features Bishop: You can earn Bishop's X-Genes as rewards together with some Comic Cards through the "Mutant from the Future" Dimension Rift.Clearing "Mutant from the Future" Dimension Rift gives you a chance of obtaining a new Comic Card.
Rewards for clearing Shadowland floors past Floor 31 for the first time have been added
Rewards are now available for agents who have proven their skills in defeating countless villains in Shadowland. You can now receive rewards upon clearing the 31st floor, and above, of Shadowland for the first time.
New Uniform Ranking and Favorites Feature
New Uniform Ranking and Favorites feature was added! The new features enables players to check which uniforms other agents purchase and enhanced and create their own wishlist by using the Uniform Ranking and Favorite functions! In addition, a Favorite feature was also added, with which you can use to mark uniforms that you like, and make it easier to purchase them through your personalized list or by purchasing them in bulk!
Added New Beast Support Chest
To help speed up the growth of your X-Men characters, the update added new beast Support Chest. This product will be sold in the Store until further notice, but can only be purchased once per account. Purchase the Beast Support Chest and receive 200 Crystals immediately. The items from the Beast Support Chest will be sent to you daily once purchased.
You can also acquire a variety of X-Men growth materials, such as, a 6Mega Rank Up Ticket and many more randomly, test your luck daily by logging in for 7 days.
For full Marvel Future Fight X-Men update, you can check it on Marvel Future Fight official website. If you don't have enough time to play the game and earn crystals , then
5mmo.com
should be your first choice for
Cheap Marvel: Future Fight Crystals
.