TOTW 23 Predictions FIFA 21: What Day is FUT Team of the Week 23 Released and Who's Getting in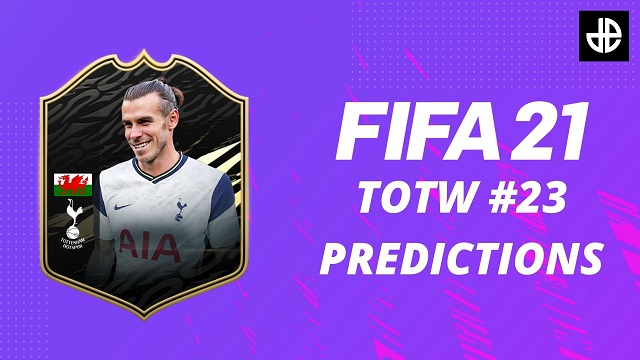 What day is Totw 23 released? What day does FIFA 21 Totw 23 come out? This guide will show you the release date of FUT 21 Team of the Week 23. And TOTW 23 predictions for FIFA 21 are coming in as fans prepare for a new Team of the Week at the midpoint of FUT What if. Let's see in details.
FIFA 21 TOTW 23 Release Date
Team of the Week is a weekly Ultimate Team promotion in which the best performing players from around the world receive in-form items. These cards are released in packs every Wednesday, make up the player pick pool for FUT Champions rewards on Thursday, and then the FIFA 21 Ultimate Team TOTW 23 squad will be confirmed at 6pm on Wednesday, March 3 2021.
FIFA 21 TOTW 23 Predictions
The FUT 21 TOTW 23 lineup will be picked on single performances only, so goals and assists are not added cumulatively within the TOTW period. Also note that performances in domestic cup competitions do not count towards TOTW selection criteria. Only one player from any one team can be included in a TOTW lineup, barring exceptional circumstances. Also note that players included in either of the last two TOTW lineups are ineligible, as are players who have featured in a recent FUT 21 promo. This is just a FUT 21 TOTW 23 prediction, so there is no guarantee that any players mentioned below will be included.
Goalkeepers & Defenders
·
GK: David De Gea 86→87 (Manchester United)
Clean Sheet & 6 Saves
·
GK: Łukasz Skorupski 76→81 (Bologna)
Clean Sheet & 8 Saves
·
CB: Rúben Dias 81→84 (Manchester City)
1 Goal
·
RB: Giovanni Di Lorenzo 76→81 (Napoli)
Clean Sheet
·
LB: Borna Sosa 69→77 (VfB Stuttgart)
2 Assists
Midfielders
·
RM: Gareth Bale (Summer OTW) 83→85 (Tottenham Hotspur)
2 Goals & 1 Assist
·
RM: Jadon Sancho 87→88→89 (Borussia Dortmund)
1 Goal & 1 Assist
·
CM: Alexandr Golovin 79→82→83→85 (AS Monaco)
2 Assists
·
LM: Diego Castro 76→81 (Perth Glory)
2 Goals
Forwards
·
CF: Lionel Messi 93→94→95→96 (Barcelona)
1 Goal & 1 Assist
·
ST: Robert Lewandowski 91→92→93→94 (FC Bayern)
2 Goals
·
ST: Alexander Sørloth 77→81 (RB Leipzig)
1 Goal & 1 Assist
·
ST: Myron Boadu 75→81→84 (AZ Alkmaar)
3 Goals
Silver Stars Objective Player
·
CB: Kyle Bartley 72→74 (West Brom)
1 Goal
Obviously, these are purely our predictions for TOTW 23 and aren't official in any way. EA might have some What If cards for Team 2 that could affect their TOTW plans. Do you have any different predictions? Come to
5mmo.com
and share with us at 24/7 live support!