Where To Farm Orichalcum Plus For Crafting Weapons And Vehicles In Kingdom Hearts 3
Throughout the Kingdom Hearts 3, you will be able to unlock and craft different types of weapons, armors, accessories, and other items which will make Sora and his friends more powerful. To craft the Ultima Weapon in KH3, which is the best weapon in the game, you have to collect one specific item, the Orichalcum Ore or Orichalcum+( note that Orichalcum+ is different from the normal Orichalcum. The "plus" version is a rare item and it can only be used for synthesizing the Ultima Weapon.) however, there are there are only 7 such Orichalcum+ in the whole game and they are very difficult to find. To help you out, our 5mmo.com will not only let you know where to get it, but also go over what it's best used for. Besides, our website also provides Cheap Kingdom Hearts 3. So, if you haven't try this game, get it now! Without further ado, let's jump right in and take a look at it.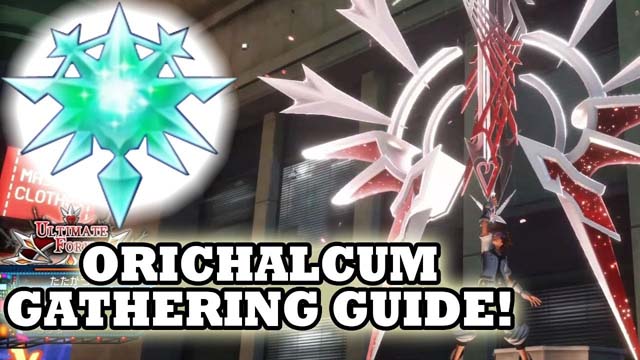 Where To Farm Orichalcum+ in Kingdom Hearts 3?
Moogle Shop Postcard: Mail Postcard For Chance To Win Orichalcum
As mentioned above, there are only seven nuggets of orichalcum+ in the game. The easiest one to get is available at the Post Box in Twilight Town. To get it, you need to head to Twilight Town and keep buying anything. This will give you Prize Postcards which will let you participate in the Moogle Raffle and one of the prizes is Orichalcum+.
Treasure Chest In The Caribbean
You can also find one in a treasure chest in the Caribbean.Head out to the High Seas and travel to Exile Island. Once you're there, head into the jungle and look for a chest nested between rocks.
Treasure Chest In The Final World
Another orichalcum+ is located in the Final World. If you fast travel to the Keyblade Graveyard - Badlands and take the pink warp gate back to The Final World, you will find a chest with some Orichalcum+ right in front of you.
Flantastic Seven: Get Highscores In All 7 Pudding Challenges
Alternatively, you can orichalcum+ by getting a high score in all the seven Flantastic mini games. then you will receive the Orichalcum as rewards. below you will find the location of all Flantastic Seven.
Lucky Emblems: Photograph 80 Mickey Emblems
All of the major game worlds in Kingdom Hearts 3 house Lucky Emblems, which come in the form of hidden Mickey Mouse logos. By taking a picture of all 90 Lucky Emblems in Kingdom Hearts 3, players will be rewarded with another Orichalcum+ material.
Frozen Slider Minigame: Collect 10 Treasures In Frozen Slider
In Kingdom Hearts 3,players can play a mini-game in Arendelle called Frozen Slider. You need to get all 10 of the treasures. As rewards, you will receive Orichalcum+ material.
Gummi Ship: Defeat Omega Space Ship In The Eclipse Galaxy
This is yet another Orichalcum+ that can only be accessed near the end of the game.The Eclipse Galaxy is the third (and last) galaxy you visit after having finished The Caribbean and San Fransoyko. In it, you must defeat the Omega Space Ship. Once you've overcome all of these foes, you'll be rewarded with an Orichalcum+.
What Is The Best Use Of Orichalcum+ ?
Now, once you have some Kingdom Hearts 3 Orichalcum+, you'll want to use it. It only has one use which is to synthesize the Ultima weapon in the game. However, to craft a Ultima Weapon, you still have to get the rest of the items you need to Synthesise the Ultima Weapon. To help, here's a full list of things you need.
7 Orichalcum+
2 Wellspring Crystal
2 Lucid Crystal
2 Pulsing Crystal
That's all you need to know how to find all the Orichalcum+ in Kingdom Hearts 3. For more news and guides on Kingdom Hearts 3, stay tuned to
5mmo.com
.