Many beginners are troubled by lack of gold and unable to unlock some cool tanks. Therefore, in this World of Tanks guide, we
5mmo.com
will give you
some realistic advice on how to earn gold, what to spend gold on and what to definitely avoid.
So, if you are a newbie to the game, keep on reading. Also, if you don't have enough playing time to earn World of Tanks Gold,
5mmo.com
will provide you with tons of safe and
Cheap World of Tanks Gold
.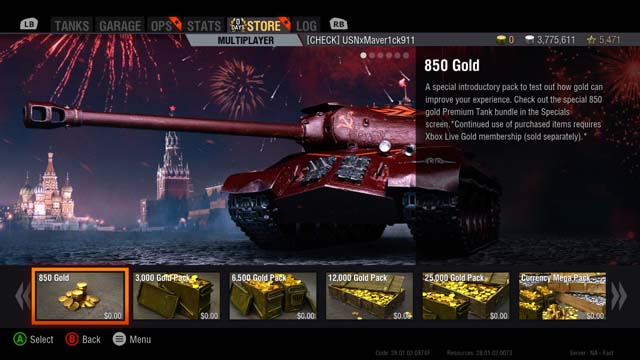 How to Earn Gold in World of Tanks without Spending Real Money?
Shoot Wargaming Employees (In game) - There is generally always a event to earn gold if you shoot WG Employees found on the other team in random battles. Look for the Red Crosshairs on a enemy tank to signal he/she is a WG Employee!
Missions - From time to time (such as about 3 weeks ago) there are weekend or week long missions that allow you to get gold rewards. Do these missions earn the gold easy as pie! Platoon up with friends to make it go faster!
Month Long Events - Now month long missions or On Track Missions allow you to get fantastic Things! Usually there is a nice reward for doing the month -long mission almost everyday or grinding up the On Track Tank which switches every 15 days. What kind of rewards? 2,500 gold? Free Tier 2-5 Premium Tanks! Rare unbuyable Tier 2-5 premium tanks! Also you can earn extra coin, premium consumables, and Equipment!
Skirmishes, Tounaments, and Team Events - These rewards often range from 250g up to 5,000g or higher! Skirmishes you can easily get 500g just for placing in top 50% (250 group, 250 alpha tournament) ect.. You can earn gold to save up and get the tank you always wanted!
Clan Wars - Got that tier 10 tank already? Then join a Clan Wars group and fight towards capture land and holding for a steady gold income to your clan.. although make sure to check to see if your clan disperses the gold to it's members first.. This is the hardest & most costly option so it's last.
How to Spend Gold in World of Tanks?
Premium Time: Buy in at least 1-month increments (unless you play very sporadically). Premium Time will give you the most consistent bonus to XP and credit earnings.
Crew Retraining: Only use gold if you're moving crew to a different class because the credit retraining for a 100% crew only drops the crew down to 90% when moving within the same tank class. That 90% is not a big deal.
Demounting Equipment: It's better to spend 10 gold to demount equipment than it is to spend 500,000 credits to buy new pieces.
Free XP Conversion: This is debatable, but there are many stock grinds that are unbearable. It's more efficient to wait for the sale (1 gold = 35 XP, instead of 1:25XP), but that's going to depend on how you value your time versus money.
Premium Tank: Once you've played the game a bit and know the mechanics and what type of tanks you like to play, buying a Premium Tank may be beneficial to grind credits and train crew. I don't recommend this step until after you've gotten a good feel for the game because Premium Tanks are relatively expensive (especially Tier 8), so they're a big investment.
Converting to Credits: This is generally considered a no-no because the efficiency is pretty poor. Now, I'll probably get down voted to hell for saying this, but if you value your time (i.e. the time it takes to grind the credits) way more than your money (i.e. the cost of buying gold), then this is a very valid choice. If $25 worth of gold is pocket change compared to the time it takes to grind 2.2 million credits, then convert for credits. But, again, the efficiency of doing this is very bad and I don't typically recommend it.