The upcoming World of Warcraft 0.85 update
will introduce
its first battle royale mode to the game, titled Rogue Royale
, which is "set in a dark and toxic sea world" and captains have to take the fight to one another as an "enclosing Wall of Fire forces close-quarters brawls" in an effort to be the last ship...er...sailing.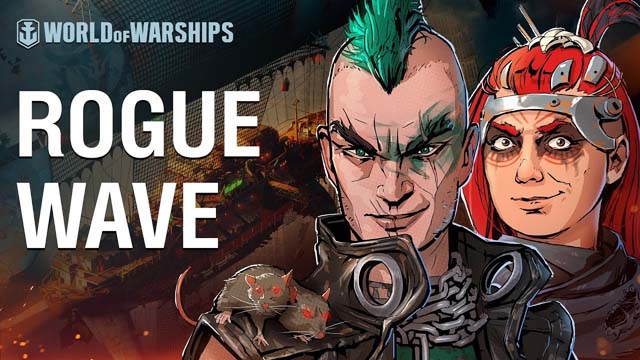 As is the battle royale way, the Rogue Wave mode throws players into a big ol' map to scavenge for supplies and shoot each other to pieces as murderous ring shrinks to push captains closer.
"In Rogue Wave, World of Warships' new temporary Battle Royale mode, players will face off in four teams of three over resources in the flooded ruins of a sunken city, adding the ability for more than two teams to battle for the first time to World of Warships. Players will start with no consumable items, and will have to navigate a world on the brink of collapse with nothing but their ship and her armaments to defend themselves from other players. Other players aren't the only threat, however, as throughout the match a wall of Wild Fire will steadily engulf the battlefield, pushing players closer and closer together, lest they get caught in the Fire and quickly lose HP." explained by Developers Wargaming.
Rogue Wave features three new ship classes specifically designed for the mode, as well as four new Directives with ten missions apiece. Finishing these missions will net you Fuel Tokens in-game items, "expendable camouflage", which can be spent in the Armory on exclusive consumable post-apocalyptic camouflage, credits, Premium Account time and even a new Premium ship, the Benham – a Tier IX American destroyer, equipped with 16 torpedoes – a record for this Tier – and featuring unique post-apocalyptic camouflage as well as a new commander.
3 new ship classes specifically designed for the mode:
• The Octopus gathers ships armed with powerful torpedoes and low detectability, though featuring automated main batteries.
• The Moray Eel is comprised of highly maneuverable ships, designed for aggressive close quarter brawls.
• The Barracuda class are formidable vessels focusing on speed and powerful main battery guns.
The update will also introduce two new seasons of Ranked Sprint where players will compete in 6v6 battles, while controlling Tier VII ships. Along with some mechanical and cosmetic changes.
In addition, improvements have been made to matchmaking, as well as Clan Brawl, a series of battles a series of battles where clan teams will fight against one another over a single day for Steel and other valuable items, as well as a host of improvements and modifications. You can find additional details about everything in the update on the official World of Warships blog. In the meantime, we'll see you out there on the battlefield. So stay tuned to
5mmo.com
, a professional online in-game currency store for
Cheap World of Warcraft Gold
.