A Brief Introduction of Eight Characters for Apex Legends and the Way to Unlock Them
The free-to-play battle royal game Apex Legends launched on PC, PS4 and Xbox One, which is the one of the most popular games nowadays and the number of registered players in the short period of one month exceeded 50 million. In our
Apex Legends Characters guides
, we will introduce the
eight characters for Apex Legends and the way to unlock them
.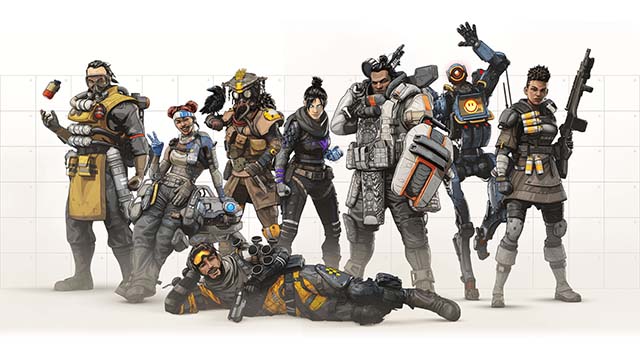 You can only freely choose from six characters for gameplay, for that the other two characters including Caustic and Mirage should be unlocked with
Apex Coins
and
Legend tokens
. At the following, we will introduce their abilities, unique equipment, and more.
The first one is Bloodhound; the man is just what his name shows. His skill is "Tracker" and he can find clues left by the enemy. Eye of the Allfather can briefly reveal enemies, traps, and clues within all structures in front of you. Beast of the Hunt can enhance your senses, letting you see cold tracks and move faster.
The second one is Gibraltar; Gibraltar is the main defense hero in Apex Legends. He can use Gun Shield and Dome of Protection skills to block incoming attacks and incoming fire, and use Defensive Bombardment to call in mortar fire on a position that you mark with a flare.
As for Lifeline, he is the medic character of Apex Legends. Combat Medic - Revive knocked down teammates faster while protected by a shield wall. Healing items can be consumed 25% faster. DOC Heal Drone - Deploys a drone that heals nearby teammates over time. Care Package - Calls in a care package full of defensive equipment.
The forth is Pathfinder; he can use Insider Knowledge skill to display the position information of the arena by scanning the beacon. Grappling Hook skill is used to fast remove. Zipline Gun is used to create a zipline for all teammates to use.
Wraith's skill Voices that allow the character hear the voice when danger approaches. Into the Void is the skill that relocates your location to a safe area and avoid all damage. Dimensional Rift - Link two locations together with portals for 60 seconds.
As for Bangalore, she can use Doubletime skill to improve running speed for a short time. Smoke launcher is used to deploy a huge smokescreen. Rolling Thunder Calls in an artillery strike that moves across the map.
The other two characters should be unlocked with Apex coins and Legend tokens of Apex Legends. Legend tokens can obtain from leveling up, with 12,000 Legend Tokens, you can unlock any one of them. Or you can use real money to buy Apex coins to unlock two characters in a shortcut way. Here, we offer cheap Apex Legends Apex Coins for you with fast and safe delivery.
The next following, a brief character guide of unique characters locked behind a paywall will be introduced.
Apex Legends Caustic Skills
Nox Vision - You can see all enemies that pass through your deployed gas.
Nox Gas Trap - Place up to six gas canisters that are triggered when shot or by passing enemies.
Nox Gas Grenade - Blanket a large area with deadly Nox gas.
Apex Legends Mirage Skills
Encore! - Automatically drop a decoy and become cloaked for 5 seconds, whenever you get knocked down.
Psyche Out - Send out a decoy to confuse enemies.
Vanishing Act - You become cloaked, and send out a team of decoys.
The biggest feature of this game is that each character has its own special skills. At present, there are 8 characters to choose from, and each character has its own special positioning and skills. Therefore, in addition to picking up firearms on the island, 3 players How to apply your own skills to match each other is also the key to success. Finally, we game player all hope that
Apex season pass
and
Apex battle pass
can be offered with more Apex skins, camos and other cosmetic items.