Anthem Tomb Challenges Guide - Where to Find All Tomb Challenges Locations and How to Complete Tomb of Yvenia Challenges
There are four Tomb Challenges in Anthem. They include Tomb of Yvenia, Tomb of Artinia, Tomb of Gawnes and Tomb of Cariff - all with there own challenges
. These Tomb Challenge locations can be accessed after a certain point in the game's main story, but you'll need to complete a bunch of tasks before they let you in. Today, we'll focus on The Tomb of Yvenia challenge. It is located just near Fort Tarsis but it is quite well hidden which makes it difficult for players to find it. T
his guide will show you where to find entrance to Anthem Tomb of Yvenia, and how to complete all Tomb of Yvenia challenges
.
Where are the Anthem tomb challenges?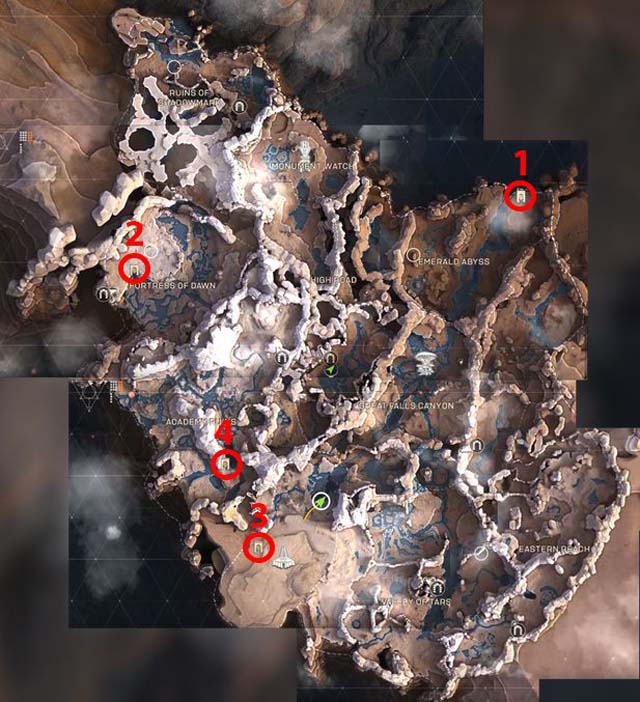 The Anthem tombs are marked on your map at the points listed below:
Tomb of Cariff - under the giant ruins at the Sanctuary of Dunar
Tomb of Gawnes - at the base of the waterfall you'll find here.
Tomb of Yvenia - follow the river south into the cave.
Tomb of Artinia - hard to miss at ground level, in the open, where the marker appears on the map.
How to find Tomb of Yvenia Challenges entrance?
You need to go to the location Marked on the map. once there you will need to look for a stream of water going into a cave just near the Fort Tarsis wall. Turn left again and follow the stream south – it'll lead you into the cave. Head straight forward until you reach a chamber with a waterfall. If you look right, you'll see two sentinel soldiers, and behind them a glowing door. That's the entrance to the Tomb of Yvenia.
How to Complete All Tomb of Yvenia Challenges?
Treasure chests x 15
The worst one. Find chests in the open world, open them at the end of World Events, and during Strongholds. So, how to find all the 15 chests?
Here's a quick handy map for you where each of the treasure chests is marked. As you explore the area outside of Fort Tarsis in Free Play, they should give you a good idea of where you should be looking.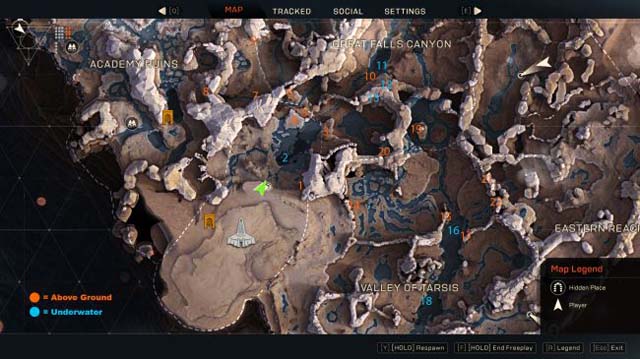 Alternatively, you can also open a chest by completing repeating an activity in Anthem like a Stronghold or World Event. Note that to complete the Trial of Yvenia challenge, though, you'll have to specifically open the chests in Free Play.
In addition, you have to be the one to open the chest. Right now if someone else in your team does it, you won't get the credit but this is due to be fixed in a patch shortly.
Harvests x 25
Press F on resource points in the open world. They can be minerals or plants, anything that you can press loot that isn't a chest. Do this in Free Play where the game won't try to pull you ahead to the leading party member.
Javelins repaired x 3
The one objective where you'll want to team up. Get into a group and find some turrets or a world boss, then revive each other until everyone's achieved this objective. If you want to do it solo it then run the Stronghold a bunch of times. Javelins actually go down during this activity, even on Normal difficulty.
Collectibles x 10
Notes, intel, hidden messages should contribute towards this total. Fly up to any tower top or odd piece of terrain and you will probably be rewarded with a note or a scroll for your Cortex. There are a lot of hidden messages and notes in the caves around the Tomb of Yvenia.
That's the end of this guide. For more news and guides on Anthem, you can visit
5mmo.com
where
Cheap Anthem Shard Packs
are also on sale.