Maeve is a Highly mobile flank which is challenging to use and master her skills.
Your main goals of any flankers of course is to take out squishy enemies, exploiting weaknesses, going from behind and of course taking out anyone who proves to be a threat to your team. If you haven't play with Maeve yet, you can unlock her right now with
Cheap Paladins Crystals
at
5mmo.com
. In this Paladins Champion Guide, we'll show you to best play Maeve.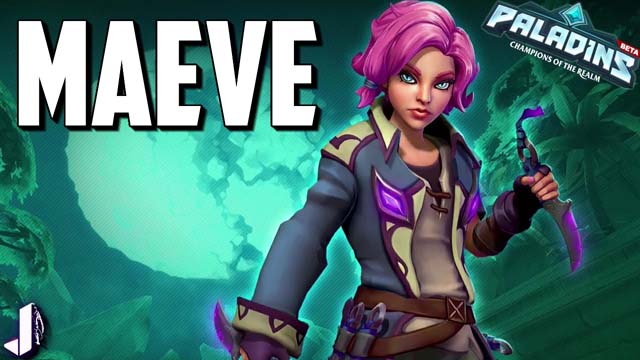 Pros
Medium mobility (Without movement speed cards) to High mobility( With movement speed cards)
Heavy single target burst DMG
Can easily dodge any incoming attacks (Speed buff on her prowl OB 47)
Can double jump making obstacles easy to pass
Easy escape (OB 47)
Has a reset skill utility button giving more mobility
Medium(if didn't land both shots) to High damage
Lowered Hitbox (Due to her animation being sneaky)
Ult is a game changer and beneficial for team plays
Decent Survivability (Thanks to the buff of her patch up card in OB 47)
Cons
Squishy
Long skill CD
Skill CD Managing
Highly skill dependent
Her attacks are arc trajectory based
Can be easily countered against almost any class if you're not careful
Flat DMG
Skills/ Abilities
Daggers
- Throw two Daggers every second that each deal 400 Damage - R2/ RT/ LMB
Notes: Has mild arc and drop, does not use ammo therefore does not require a reload.
Pounce
- Quickly Dash in any direction you're aiming, Collide with an enemy to perform a melee Strike for 400 damage - L2/ LT/ RMB
Notes: Applies a 'bounce' off of your enemy and has a range of 50.
Prowl
- Move 50% Faster and increase jump height to 4 seconds - R1/ RB/ F
Notes: Using any other ability will cancel prowl.
Maeve's jump height/ time is increased.
Nine Lives
- Reset the cooldowns of Pounce and Prowl - L1/ LB/ Q
Notes: Very important when facing desperate situations
Midnight
- Enemies within 300ft (91.44m) have their vision restricted to a 30 foot (9.144m) radius for 4 seconds - Triangle/ Y/ E
Notes: This is her ultimate, it's also important and will be mentioned in my Tactics/ Strategies section. Also note that enemies will have a circle around them that shows how far their vision is restricted.
Important - The item 'Resilience' will affect the duration but it cannot reduce it to below 2 seconds.
Items:
Chonos, cauterize, haven/blast, riplife/killtoheal
Tips:
Try to dont die never. If you cant win a duel don't fight, run!!
Try always 1vs1 and attack from behind
If you receive the first hit don't fight, escape and recover your hp and try again. Try always to hit first
"Run, Jump, Kill and never Die" If you understand this you will be a good Maeve.
Cards:
Heal when you use pounce at level 3
Heal when you use prowl at level 2 or 3
Increase the prowl speed at level 2
Increase hp maybe level 2 (2000hp total)
Reduce the cooldown of nine lives level 2 or 3 -Legendary artful dodger
Legendaries:
Rogue's Gambit-Eliminations reset the cooldown of pounce and pounce deals 10% more damage.
I always use this legendary. this legendary allows you to have insane mobility. you can get chain kills with chain pounces. You can do a trick with this legendary. Let's say you see an enemy who is low, but there is another enemy not so close to you,but unaware of you. you can pounce-shoot-pounce(reset) to get to the enemy faster
Artful Dodger-activating nine lives cleanses all crowd control effects and heals for 400.
nine lives has a 20s cooldown, this card will only be effective every 20s. other cards are more useful.
Street Justice-pounce now executes targets below 35% health. Another good card. After the change to this card, it can now kill tanks with personal shields(torvald,ruckus)
Cat Burglar-deal 30% more damage from your first two weapon shots within 5s of prowl ending.
more burst.