COD Modern Warfare 2 Season 3 Weapon Guide: How to Get the Cronen Squall Battle Rifle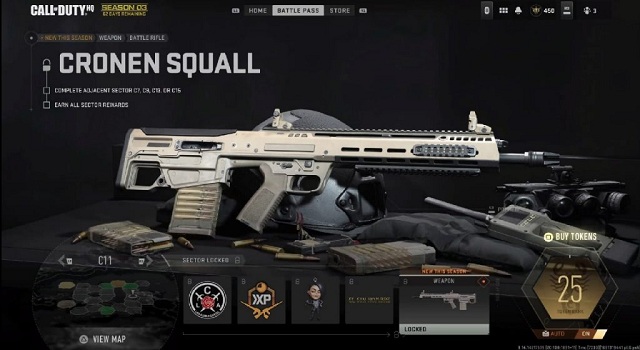 In the latest COD Modern Warfare 2 Season 3, there are some new features, maps and weapons introduced in the game. Many players are curious of the new weapons in Season 3. One of the new weapons in the Cronen Squall Battle Rifle in COD Modern Warfare 2. Do you want to know how to get this brilliant weapon in the game? You can read this article for guidance. Players can get
Cheap COD MW2 Points
to unlock the latest Season 3 Battle Pass for good rewards in the game.
The Cronen Squall Weapon in COD Modern Warfare 2
The Cronen Squall is one of two new weapons available for Season 3 at launch. It is a bullpup semi-automatic rifle (with full auto capabilities) designed to take out opponents from mid-to-long range. The Cronen Squall is exceptional when it comes to range and fire rate, but falls short when it comes to recoil control and accuracy. However, with the best attachments, this Battle Rifle is a force to be reckoned with.
How to Get the Cronen Squall Battle Rifle in COD Modern Warfare 2
The Cronen Squall Battle Rifle is available for free through the Season 3 Battle Pass in Modern Warfare 2 and Warzone 2 Season 3. It can be unlocked in Sector C11 of the Battle Pass.
While you can earn sufficient Battle Pass Tokens by simply playing the game, Season 3 introduces the new BlackCell Battle Pass. Costing around $30, this replaces the Battle Pass Bundle, offering 20 Tier Skips (25 on PlayStation).
This weapon will be able to dominate long-range matches in Season 3. According to the developers, the Cronen Squall boasts the best range and fire rate in its class, making it a "worthy contender across all modes."
Aside from its Gunsmith attachments, you'll be able to select between six different ammo types for the Cronen Squall's 6.8 rounds as well as two options for extended magazines, including a 50-round drum attachment.
How to Equip Best Attachments with The Cronen Squall Battle Rifle
The Cronen Squall increases range, accuracy, recoil control, and handling at the cost of minimal mobility.
For your first attachment, go ahead and equip the SAKIN TREAD-40 underbarrel. This attachment will reduce both the vertical and horizontal recoil of your gun, thus making it much easier to control when you are spamming your shots. Combine this with the FTAC RIPPER 56 and the SAKIN ZX FRIP to further improve your recoil control, which will improve your precision at a distance - along with making it much easier to land those one-shot kills.
Your fourth attachment should definitely be the FSS OLE-V LASER, a nifty laser attachment that will introduce aiming stability, along with improving aim-down-sight and sprint-to-fire speeds. This will keep your handling from falling too low, thus keeping your weapon light for intense gunfights. Finally, finish off with an optic like the CRONEN MINI PRO or the CRONEN MINI RED DOT for an improved precision sight picture.
How to Use The Cronen Squall Battle Rifle in Matches
The Cronen Squall might be used best at long ranges, similar to the Signal 50 Sniper Rifle's best loadouts in Warzone 2. However, Battle Rifles are typically not nearly as accurate as Snipers, so players might want to use this weapon closer to mid-range than their heavily scoped counterparts.
If players expect to get the Cronen Squall weapon in COD Modern Warfare 2, you need try to upgrade battle pass quickly and reach the demanded level. And you can
Buy COD Modern Warfare 2 Points
to unlock the latest attachments for upgrading weapons.