Enjoy Your Monster Hunting Experience In The Wilderness Of Rangers of Oblivion Now
Rangers of Oblivion has been upon us for nearly a month on both iOS and Android devices, offering players both thrilled and exciting monster bunting experience in the wildness. The main focus of a game like Rangers of Oblivion is to hunt big monsters and turn their spoils into weapons and armor capable of taking on the next big thing. However, those monsters are very tough and hard to beat against. So, it is very important to master come combating techniques to beat against those tough monsters if you wanna rank up fast and higher. So, to help you out, in this guide, we'll be presenting you some realistic tips for monster hunting in Rangers of Oblivion. So, if you wanna hit those monster with more damage, keep on reading.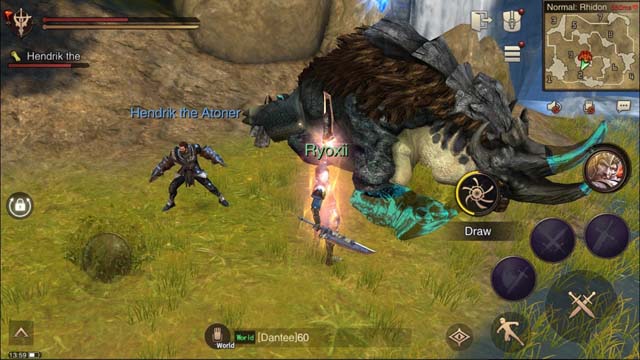 How to Unlock Monster Hunting in Rangers of Oblivion?

To fight monsters, you have to enter a place called Wilderness. The trailer below is nicely edited and gives you a good idea of what the environments you'll be fighting in and the huge monsters you'll be battling are like. To enter wilderness, first you have to visit Cassandra and take permission of Cassandra. Interact with her and choose hunt or exploration. Then you will see a Mammoth type button, which opens up the campaign mode: Story, Normal and Elite.

In addition, you can play each mode in three different hunt modes: Normal, Assist and Double. Those modes are not free. Each mode cost you hunting voucher, gold and expedition order tickets respectively. So, if you lack voucher or gold to unlock the hunting mode, don' t worry and come to 5mmo.com for Cheap Rangers of Oblivion Diamonds. Comparing with online in-game sellers, we offer a much lower price. In addition, you can enjoy 3% off with a coupon code "5MMO". So, just give it a try. Otherwise, you'll never know what you've missed out!
Further Combating Tips for Monster Hunting

Be familiar with your abilities and learn to use them in different situations.

No matter what weapon you've choose, the deciding factor of winning a battle is the wise use of your character's abilities. On you mobile console, you can notice 3 additional skill buttons around the Normal Attack button. You must be familiar with each ability control and by practicing, you'll learn which situation you should perform them and how to combine those abilities to cause more damage.

Use the Soul Version to find explosive weak points of monsters

Next to the left of your Dodge button, there's a using the Soul Vision button by tapping which you can find exploitable weak points all over monster's body. By attacking those weak points, you will deal more damage to monsters and topple the monster in question,which allows for a series of coordinated attacks as it lays there defenseless for a time.

Collect materials for more powerful weapons

Weapons do effects your battles heavily in the game. On your journey through wilderness, you will encounter many different types of monsters, each of which boasts different attributes, attack patterns, and most importantly, loot. You can raft better equipment to get you through tougher hunts,so that you can better aid your companions and take down monsters with magic.
Now we are wrapped up with this monster hunting guide for Rangers of Oblivion. For more news, guides and updates on Rangers of Oblivion, stay tuned to 5mmo.com.