Sick of walking around at ground level with the denizens of the Wasteland? Now you are able to
soar the sky the combination of some of the Fallout 76 Perk Cards and Mutations
! The exploit was discovered by
YouTuber TYR
, who posted a video showcasing it and how he did it. He found that the magic combo of Fallout 76 perks and mutations that will let you achieve flight in the game, so long as you have a few buddies to help you out. First, you can check the video below for what it looks like to fly in Fallout 76.
Well, to achieve the flying about you can observe above, TYR explains that you'll need to have the mutations
Bird Bones, and Marsupial
. Bird Bones makes falling from heights slower, while Marsupial improves jump height. Besides, you need to pair them with the
Strange in Numbers Perk Card
which increases positive mutation effects by 25% if teammates are mutated too. Now, you've got the perfect recipe for flight in-game. However, TYR also mentioned that this only works for user with high level. so, if you are troubled by your low ranking, then come and buy
Cheap Fallout 76 Bottle Caps
at 5mmo.com to upgrade your rank. We are the cheapest online in-game currency store.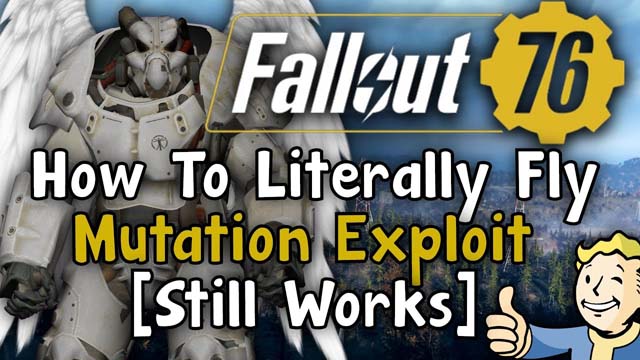 Additionally, TYR also noted that you'll need at least two other players for this to work, with everyone using the Strange in Numbers perk. If everybody has Strange in Numbers equipped, the effectiveness of all four cards actually stacks. With all of these combined, players can effectively jump into and then glide through the air, falling incredibly slowly, just as you see in the above video.
Then where should you get these mutations? TYR said that he found the mutations in Cranberry Bog at Drop Site C2. if you want to find all of the mutations as quickly as possible, then sit in the toxic water until you die, load in and repeat until you get a mutation, then server hop and repeat. One other note, TYR advises having the Class Freak perk to negate the negative effects of the mutations, coupled with Strange in Numbers again.
As we know, Fallout 76 has plenty of differences to previous Fallout games, with one notable difference being the lack of console commands. One of the most commonly used commands was one which disabled collision for the player. This allowed players to effectively walk into the sky and through walls. Without this command, players cannot fly in Fallout 76. However, it seemed that gamers can fly now without the help of console commands. They can soar in the sky by a combo of mutations: Bird Bones, and Marsupial, with a Strange in Numbers Perk Card. So have you try this new ability yet in Fallout 76? Or are you stuck by your low ranking? Well, to rank up quickly, you can buy cheap Fallout 76 bottle caps from
5mmo.com
, the cheapest online in-game currency store. Moreover, you can enjoy a 3% discount by using the code "
5MMO
".