Fortnite Battle Pass Leveling Up Guide: How to Get Battle Stars Fast in Chapter 3 Season 3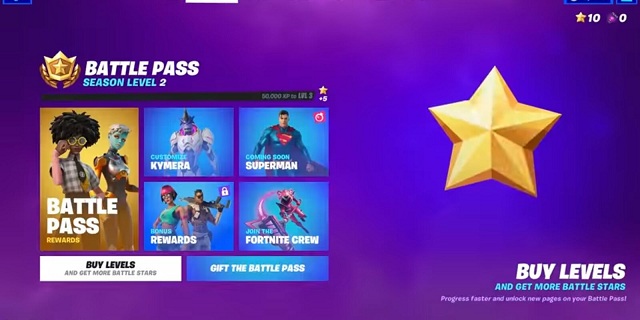 In Fortnite Chapter 3 Season 3, players have access to level up their Battle Pass and obtain unique rewards for their characters. When players have bought the latest Battle Pass in Fortnite, they also need find ways to level it up quickly in order to get these unique rewards. So, they are eager to know how to get more Battle Stars for upgrading their Battle Pass quickly in Fortnite. Players can choose to buy
Cheap Fortnite V-BUCKS
to get their desired skins for characters in the shop.
The Way to Get Battle Stars Fast in Fortnite
You can try to get more XP from winning matches
To get Battle Stars, you'll need make your character survive longer or even become the last one in the Battle Royale.
Placements, overall survival time, and the number of kills you'll score in a match will also impact the XP you'll get at the end. Depending on your playstyle, you should try coming up with a strategy that will yield the most XP in the long run. While these amounts may look small, they add up in the long run.
Kills: 50 XP for the first kill in the match, 20 XP per kill after that (capping at seven kills.)
Survival: 17 XP per minute after the first minute of a match, capping at 14 minutes.
Placement: 25 XP for top 20, 100 XP for top 10, 300 XP for a Victory Royale.
With these numbers in mind, you can easily maximize your XP gain by simply surviving until the game's later stages. Surviving will guarantee you better placement and you'll also be increasing your XP gain through your survival rating. You'll also need to do a lot of looting while surviving and opening chests/ammo boxes reward players with XP as well.
You can choose to complete weekly and seasonal quests
For bigger XP drops, players can also turn to their weekly quests for rewards. Giving 15K XP for each quest completed, these challenges tend to be a little more involved than Dailies, requiring specific player interactions, such as bouncing on crash pads, at a spread of in-game locations. As with Daily Quests, the more of these loopers complete, the more XP they can earn through Weekly Quest Bonus Goals.
Alternatively, Fortnite offers season-specific quests which are more story-related. Like weeklies, these task the player with completing obscure goals, like aligning mirrors in Shuffled Shrines, and can land players huge boosts to their level. Released in Parts over the course of the event, each quest typically only offers 7K XP though completing each Part grants 36K, making these vital to thoroughly leveling up each season.
You can also play with friends in the same matches
Playing with others not only helps the time pass faster when you're playing, but if you've all got the Battle Pass, you'll earn some bonus XP for doing so. By default, your teammates will also assist you with completing some of the quests, meaning you can complete them faster for easy XP.

These ways are essential for players to get more Battle Stars in Fortnite Chapter 3, and there are also other useful ways for players to explore in the game. Players can
Buy Fortnite V-BUCKS
to purchase the levels of Battle Pass in order to get the unique rewards early in Fortnite.