NBA 2K23 Badges Guide: Some Changes About Badges System in NBA 2K23 MyCareer Mode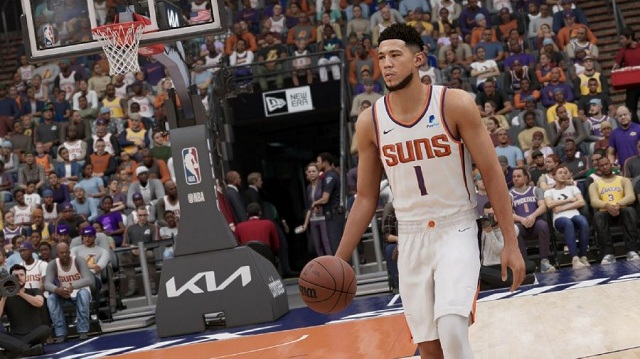 Many players are waiting for the official release of NBA 2K23 in this summer, and there will be a lot of changes in the latest version of NBA 2K Series. Most players who like playing MyCareer Mode are more curious about the changes of Badges System in the game. So, if you are also interested in the information about badges change in NBA 2K23, you can read this article carefully. In order to build the best player in MyCareer Mode, you need
NBA 2K23 VC
to level up your characters quickly and win more matches in this competitive mode.
The New Badges System in NBA 2K23
The new badges system will be three Tiers, as opposed to the colored badges. There are 16 badges per attribute category: eight in Tier 1, four in Tier 2, and four in Tier 3, with Tier 1 badges being the least powerful and cheapest. The idea is to make players more mindful of their builds and to force them to make difficult decisions. It's also expected that this way, players will first equip lower tier badges before moving on to the higher tier badges, making the games' pacing in terms of progression much smoother and preventing sudden power spikes in MyCareer.
This is meant to cause players to make tougher choices when deciding which badges to equip, thus bringing more balance to game modes where many custom players are interacting together, such as in the game's social hub, The City.
Along with tiers, there are new "core" badge slots that allow you to slot in one badge for each skill area: finishing, shooting, playmaking, and defense/rebounding. Core badges don't count toward your overall badge points, but can only be placed in a core badge slot once their related challenge is completed.
The new NBA 2K23 Badges
Some badges have been updated in this game, and a few new badges are introduced into the game as well. Some of them are similar to the removed badges in NBA 2K22.
Finishing Badges:
Slithery: Makes it easier to gather through traffic, avoiding collisions and strips.
Masher : Increases ability to finish inside layups over defenders.
Aerial Wizard: Ability to successfully complete alley–oops and putbacks.
Bully: Like Giannis and LeBron, able to finish strong by bulldozing through traffic.
Deleted: Hook Specialist
Shooting Badges:
Agent 3: Ability to make challenging 3-point attempts while dribbling
Middy Magician: Increased capacity to score mid-range jumpers like MJ off the bounce or off of the post.
Amped: Reduces the penalty for the shooting characteristic when tired and when moving too much before firing.
Claymore: The longer a spot-up shooter stands still before the shooting, the more likely they are to knock down catch-and-shoot jumpers.
Comeback Kid: Improved ability to make perimeter jump shots while a game is losing.
Hand Down Man Down: If the opponent is unable to get a hand in the face, it makes an outside shooter even more lethal.
Space Creator: Previously a Playmaking badge, it now improves the ability to make hop shots and stepback jumpers and makes opponents trip more frequently.
Limitless Range: Enhancing shooters' effectiveness with every shot from far 3PT range.
Deleted: Chef, Hot Zone Hunter, Lucky #7, Mismatch Expert (moved to playmaking), Set Shooter, Sniper, and Limitless Spot-Up
Playmaking Badges:
Clamp Breaker: Helps ball handlers win more one-on-one physical matchups (opposite of Clamps).
Killer Combos: Improves a ball handler' s effectiveness with size-up dribble moves.
Mismatch Expert: Helps smaller guards break down taller defenders when mismatched one-on-one.
Vice Grip: Improves ball security immediately after securing a rebound, catch or picking up the ball.
Deleted: Bullet Passer, Downhill, Glue Hands, Stop & Go
Defence/ Rebounding Badges:
Anchor: An important badge for bigs in the final line of defence, Anchor enhances their capacity to block and contest shots in the paint.
Boxout Beast: Helps rebounders in both offensive and defensive rebounding situations by helping them win boxout battles.
Work Horse: The Pat Bev badge that improves your stamina to play tenacious defence and hustle down 50/50 balls.
Glove: Handle the ball away from ball handlers and strip players as they assemble for shoots with the Gary Payton-inspired glove.
Challenger: Increases the efficiency of matches using perimeter shots.
Deleted: Defensive Leader
Players can read this passage to know the latest function of new different kinds of badges in NBA 2K23. And if you want to improve your player quickly in MyCareer Mode, you had better
Buy NBA 2K23 VC Coins
in advance to increase the basic stats of them in the matches.