Fortnite Chapter 4 Season 3 Weapon Guide: Where to Find Kinetic Boomerang in Fortnite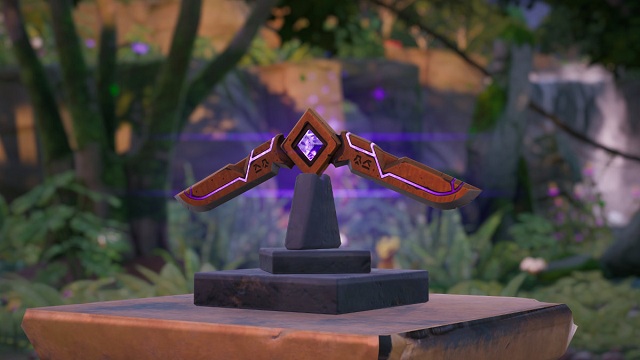 There are some new weapons introduced into Fortnite Chapter 4 Season 3. One of these weapons are especially unique. Many players are curious of the Kinetic Boomerang. Do you want to know where to find it in Fortnite? You can read this article for guidance. Players can use
Cheap Fortnite V-BUCKS
to unlock latest Battle Pass and get good rewards.
What's the Kinetic Boomerang in Fortnite?
The Kinetic Boomerang is a throwable weapon added in Fortnite: Chapter 4 – Season 3 that deals damages and recharges. The most obvious comparison for the Kinetic Boomerang in Fortnite is the Batarang, as both can be thrown at both players and enemies for decent damage.
The Kinetic Boomerang deals 60 damage to enemies and 100 damage to builds. Players will have to 20 seconds for both of its throws to recharge.
Where to Find the Kinetic Boomerang in Fortnite
Even though the Kinetic Boomerang is an Epic rarity weapon, gamers shouldn't have too much trouble acquiring it in Fortnite. The Kinetic Blade can be found as regular floor loot anywhere on the map or by searching Boomerang stands.
There are various Boomerang stands at Shady Stilts, a jungle POI added at the start of Chapter 4 Season 3. In order to remove a Kinetic Boomerang from a stand, players have to approach it and then press and hold the "search" option. This will cause the Kinetic Boomerang to fall to the ground, and gamers can then pick it up. The Kinetic Boomerang is the only loot that can be removed from these special stands.Alternatively, players that don't want to search for the Kinetic Boomerang can simply purchase it. The Guardian Amara sells the Kinetic Boomerang for 250 gold bars, and she's always available at Brutal Bastion, the POI on the northeastern part of the map.
How to Use the Kinetic Boomerang in Fortnite
As already mentioned, the Kinetic Boomerang is best for medium to short range. You can't throw it too far before it returns back, so treat it somewhat like an SMG. Based on our results, the Kinetic Boomerang does 60 damage per hit. That's nothing special, so you should still use SMGs and shotguns for most close-range fights. However, it doesn't require any ammo or charge time to use.
There are still ways to get kills and gain an advantage over opponents with the Kinetic Boomerang, though. Since this weapon only needs to be thrown at enemies to seek them, you can briefly pop out from cover to throw it. This will ideally damage your enemy without leaving yourself open to attack. You can even switch weapons to fire while the Kinetic Boomerang seeks out a target.
Features of Kinetic Boomerang in Fortnite
Each hit deals damage of 60 to the body and 110 headshot damage. Additionally it deals 100 damage to vehicles.
Kinetic Boomerang comes with charges of about 20 seconds to recharge the weapon.
Given its Boomerang, the weapon will trace back to its user upon each use.
Players can choose to recall the weapon early. This will cause a small explosion which will further damage the enemies.
Players can try to find the Kinetic Boomerang in Fortnite by following the guidance and figure out how to use this weapon correctly. And you can
Buy Fortnite V-BUCKS
to unlock the latest skins or items for your character in Chapter 4 Season 2.