Fortnite New 21.50 Update: Late Game Arena, Pump Shotgun and Other Changes in Fortnite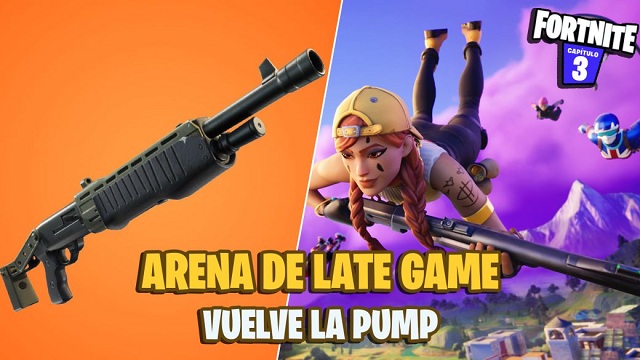 With the end of Fortnite's incredible Dragon Ball Crossover, Fortnite bring the latest 21.50 update for the next major contents. There will be new gameplay features and weapons in the latest version of Fortnite. If you are wondering more about the latest information of Fortnite, you can read this article carefully. Most players are willing to decorate different items or skins on their characters by using
Cheap Fortnite V-BUCKS
in the game shop.
New Gameplay Features in Fortnite
Late Game Arena returns
Competitive Fortnite players have been calling for Late Game Arena to return for ages now. Fortunately, Epic Games has finally responded by confirming it will appear right after update v21.50 drops.
For those who haven't played this popular mode before, Late Game Arena is essentially an endgame simulator that features a much smaller playing field for some fast-paced and chaotic action.
Arriving along with the Late Game Arena, players will also notice several other changes:
Reboot vans
Reboot Vans are now in popular demand! Who doesn't love a good reboot in the 5th zone?
Other changes
The first new zone forms 30 seconds faster. This will get you into that late-game feeling that bit quicker. We may tweak this further, depending on your feedback.
Loot on the starter island will now match the custom load-outs.
Alien Slipstreams are disabled at the start of the match.
You may see these look as though they are active. However, once close enough, you'll see they are disabled.
We had some issues with the storm not behaving properly in the original Late Game. This is fixed.
Imposters Mode is Removed in this update
Yes, the sussiest mode of all is leaving the Limited Time rotation, to make some room for a more competitive matchmaking setup to take its place. While it was originally deemed controversial, due to the hype of another game that is Among Us, the Imposters mode stuck around for quite some time, and it seems the devs at Innersloth eventually fell in love with it too.
The Return of Rift Spawning and Legendary Pump Shotguns
If you're looking to showcase your skills in the arena, you'll be able to do that once more when the Late Game Arena makes its way back into the lineup of Limited Time Modes. This is where you'll be able to showcase your true skills, and now that you'll have access to the Legendary Pump Shotgun and Rift Spawning, things are bound to get crazier than they've ever been before.
New Loveless Crew Pack For Fortnite Battle Pass
Players who are active Fortnite Crew members will receive September's Loveless skin and matching cosmetics on Wednesday, August 31st, at 8 PM ET. The Loveless skin has four different masks for each card suit, back accessories that spin when opening chests, and a weapon wrap that reacts when you get eliminations.
Many players are willing to join in the battle of Fornite. These new features makes them feel excited in the latest version of Fortnte. If you want to unlock more good items of skins in the game, you can
Buy Fortnite V-BUCKS
to get beautiful skins for your characters quickly in Fortnite.