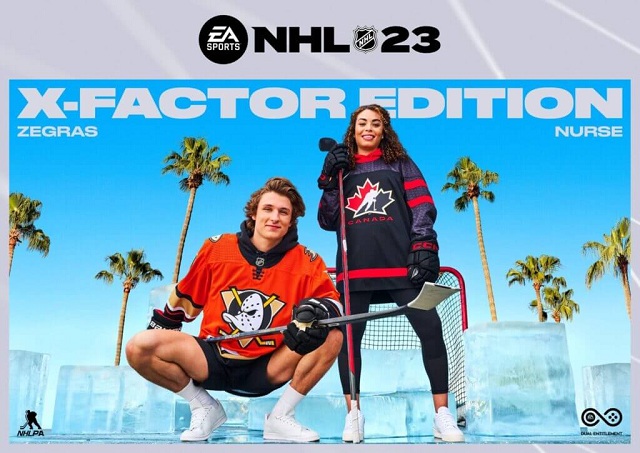 Players have waiting for the new of NHL 23 for a long time. Recently, EA Sports has announced the cover stars of NHL 23 and more gameplay improvements of this game. And players can't wait to experiencing the latest ice-hockey game. If you want to know more information about NHL 23, you can read this article carefully and learn more about it. Players can use
HUT 23 Coins
to purchase good players from the transfer market and build the best team in the Hockey Ultimate Team mode.
NHL 23 Release Date
EA Sports has confirmed that NHL 23 has a release date set for October 14, 2022.
NHL 23 Cover Stars
NHL 23, the popular hockey franchise from Electronic Arts, has revealed the latest cover athletes. This year features two athletes from different sides of the sport — Trevor Zegras and Sarah Nurse.
Zegras, on the left-hand side of the box, is a hot new up-and-comer with the Anaheim Ducks. The young center was among those chosen to be on the fan ballot for the NHL All-Star game. He was rookie of the month in December of 2021.
On the other side is Sarah Nurse. She plays for the Toronto Furies in the CWHL (Canadian Women's Hockey League) and for the Canadian women's national ice hockey team. Nurse is having a great career. She has both silver and gold medals in the Olympic Games for 2018 and 2022, respectively. She also earned bronze and gold in the IIHF World Women's Championship for 2019 and 2021.
NHL 23 New Gameplay Features
Last Chance Puck Movement
The first thing that you notice in the NHL 23 trailer is the addition Last Chance Puck Movement. You are shown a spectacular goal from Trevor Zegras as he shoots the puck while he is tumbling over.
If EA is trying to make the game feel more realistic, then they are doing a great job at it. We have seen many spectacular goals in the NHL over the last few years and being able to recreate some of those goals while creating brand new moments is going to be really fun. EA plans to add over 500 stumble animations so the possibilities will virtually be endless.
Cross-platform Play For HUT 23
Cross-platform Play is coming to NHL 23. Now, players can compete in EA Sports Hockey League and Hockey Ultimate Team against players from different consoles. This shift spells a bigger player pool, leading to shorter matchmaking wait times and better-quality matches. The only catch is this feature isn't cross-generational, meaning PlayStation 5 players can compete against Xbox Series X/S players, but not Xbox One players, and vice-versa.
World of Chel in Franchise Mode
Franchise is a solo mode, of course, but EA Vancouver will be putting a major focus on social play with a patch that's currently scheduled for November, the month after NHL 23 launches: The online modes World of Chel (including EA Sports Hockey League) and Hockey Ultimate Team will offer cross-platform matchmaking, fulfilling a long-running community request. By widening the player pool, this feature will have the side benefit of reducing matchmaking wait times, which got multiple minutes long in NHL 22.
Other details
NHL 23 will be using the Frostbite Engine for the second consecutive year. This will hopefully allow the graphics and crowds to be as realistic as possible. X-Factors will also be making their way into NHL 23 for the second consecutive year as well. We can expect to see a handful of new X-Factors, but those haven't been announced as of yet.
Players will be excited about the coming release of NHL 23, and they will experience the new features in the game. In order to build the best team in HUT 23, you can
Buy NHL 23 Coins
to collect powerful players and make your team stronger than opponents.