Genshin Impact Best Tighnari Build Guide: Best Artifacts, Weapons, and Teams For Tighnari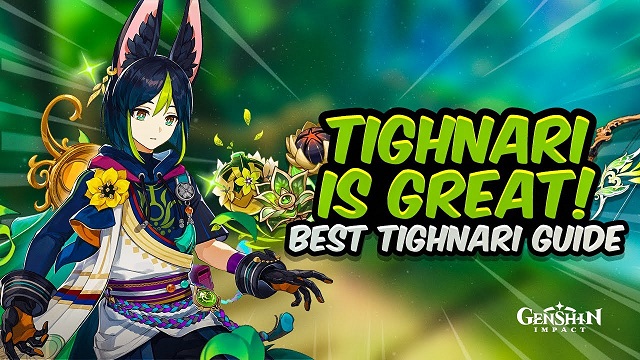 Due to the update of Genshin Impact 3.0, there are several new characters introduced in the world of Genshin Impact. One of these new characters is Tighnari. Many players are curious about Tighnari and they want to know the guidance of best Tighnari build. If you are also interested in the new character Tighnari, you can read this article and learn the guidance. Player can use
Cheap Genshin Impact Genesis Crystals
to unlock more new characters and build the best team in the game.
Who's Tighnari in Genshin Impact?
Tighnari is one of the three characters that has arrived with the Sumeru update, and like Collei, he's also an archer that belongs to the brand new Dendro element that's been introduced in version 3.0. He's a five-star bow user who uses Elemental Mastery, Dendro application, and charged shots to take out enemies.
Best Build For Tighnari in Genshin Impact
Tighnari is a DPS character, but could also be used as sub-DPS, depending on how you build him and how he fits into a Tighnari team composition. We've gone for a main DPS build as a lot of Tighnari's damage comes from Dendro reactions instead of base attack stats.
Best Artifacts For Tighnari in Genshin Impact
Genshin Impact 3.0 has brought new artifact sets in addition to weapons into the game – and for Tighnari, that is good news. Deepwood Memories increases Dendro damage by 15 percent with two pieces equipped, and from four pieces onward it reduces the target's Dendro resistance by 30 percent for eight seconds after hits with the elemental ability or special ability. This effect can be triggered even if the character equipped with it is inactive.
Best Weapons For Tighnari
Hunter's Path
Perhaps unsurprisingly, the new five-star weapon in version 3.0 is Tighnari's best weapon overall. The passive skill not only increases his Charged Attacks by a considerable amount but it multiplies it by his Elemental Mastery stat. The increased Crit Rate can't be ignored either.
While the Hunter's Path bow is by far the best option for Tighnari, other options such as Polar Star or Amos' Bow can do pretty well. If you're after an easy-to-get alternative to those, The Stringless is a passable four-star option. Just be warned that none will outshine Hunter's Path as far as straight damage goes.
Slingshot
Slingshot is a three-star bow that most players should have just from opening chests around the open world. It may not seem optimal, but the Crit Rate boost and extra damage can add up as long as Tighnari fires arrows from close range to avoid the 10% penalty.
Best Teams For Tighnari
Keep one important thing in mind while choosing your Tighnari team: this character's strength comes from his ability to trigger Elemental Reactions. One thing we definitely want is a matching Elemental Sub DPS to set up those Reactions.
Top Tier Team
Main DPS: Tighnari
Sub DPS: Yae Miko
Sub DPS/Support: Collei, Raiden Shogun
Support: Zhongli, Kokomi
Budget Team
Main DPS: Tighnari
Sub DPS: Fischl, Electro Traveler, Lisa
Support: Barbara, Noelle
If players want to build the best Tighnari in Genshin Impact 3.0, you can follow the guidance and experiment the best combination in the game. You can
Buy Genshin Impact Genesis Crystals
to purchase the suitable gear for characters in order to enhance their capacity in the process of questing.