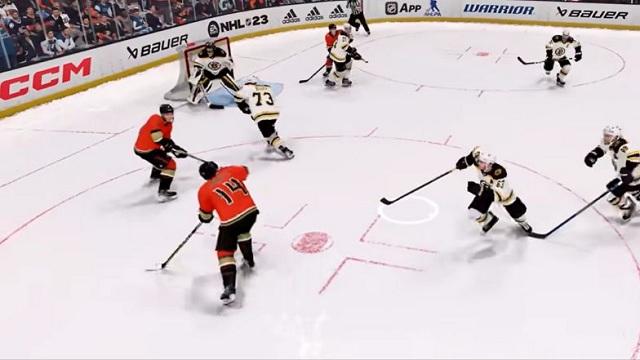 Players who are fond of playing hockey are excited about the release of NHL 23. They can play the matches with their unique ultimate team in HUT 23. While, if you can find the right players for your team, they will help you win the match easier than before. Like the Wing position players, they play an important role in the team. If you want to know which wing player is suitable for your team, you can read this article and find the one you need. Players can also use
HUT 23 Coins
to purchase good players from the transfer market, some potential players are not expensive in the market now.
Good Wing Players for Players to Choose in NHL 23
Johnathan Huberdeau 90 OVR (Left Wing)
Number eleven of the Florida Panthers stands at six feet one and two hundred pounds, playing in the left wing position. Huberdeau joined the Florida Panthers in 2012 and went on to be a valuable member of the roster, scoring a wealthy 137 goals.
In NHL 23, Johnathan Huberdeau has an overall rating of 90, with high marks in shooting and puck skills and a playmaker play style. As a left-winger, Jonathan Huberdeau has aided his team in reaching the playoffs four times, coming close to victory each time.
Patrick Kane 93 OVR (Right Wing)
Patrick Kane of Chicago, even entering his 16th year, hails as the best wing player in NHL 23 with a 93 OVR rating. While he does have 97 Off. Awareness and 97 Wrist Shot Accuracy, Kane has an impressive 96 in all Puck Skills attributes. This makes him particularly adept at successfully pulling off some trickier dekes and means he rarely loses the puck.
Nikita Kucherov 92 OVR (Right Wing)
Speaking of consistency, the most decorated RW currently in the Eastern Conference is next up on the list. Tampa Bay's Nikita Kucherov is the ultimate difference maker on the ice. When he's not playing, the Lightning score less and don't win as often. That immediately changes when Kucherov takes his spot on the top line for Tampa Bay. Kucherov nearly led the Lightning to back-to-back-to-back Stanley Cups, and should help keep the team in contention next season.
Artemi Panarin 91 OVR (Left Wing)
Artemi has had an illustrious career since first entering the National Hockey League in 2015 after a long rookie career while playing internationally. Panarin originates from Russia and first played with the Chicago Blackhawks, then the Columbus Bluebirds, and finally settled with the New York Rangers as a left-winger.
Panarin is thirty-one years old with an overall rating of 91 in NHL 23. He has high marks in skating, shooting, sense, and puck skills, making for a defined playmaker play style.
Miko Rantanen 91 OVR ( Left Wing)
Miko Rantanen is the best primary wing on the defending Stanley Cup champion Colorado Avalanche. Rantanen has fairly equal ratings across his Puck Skills and Shooting attributes, topped off with 95 Off. Awareness and 90 Poise. He has 93 Passing and Puck Control and 92 Deking and Hand-Eye. The Sniper has 93 Wrist Shot Accuracy and 92 Slap Shot Accuracy to pair with 92 Slap Shot Power and 90 Wrist Shot Power. Basically, he's adept at both scoring and playmaking.
If you are still looking for the suitable wing players for your Ultimate Team, you can consider these listed players in this article. However, these players are not cheap in the market. You need gather a large amount of coins or choose to
Buy NHL 23 Coins
in cheapest prices at 5MMO.com. You can save extra money and get your desired players with the help of cheap coins.