Fortnite Skywalker Event Guide: Where to Find Darth Vader and How to Defeat Him in Fortnite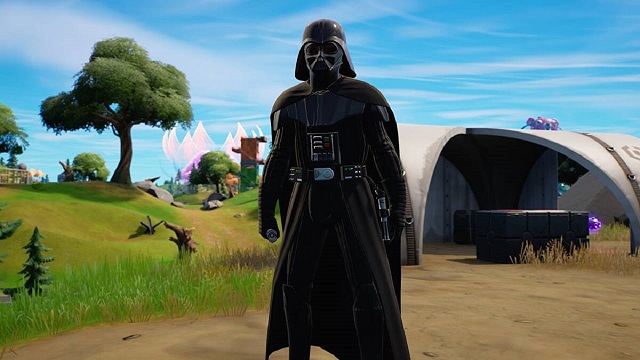 Some player may have known the Darth Vader boss in Fortnite Chapter 3 Season 3, while he has returned back in the time-limited Skywalker Week event, players who want to get good rewards can participate in this quest. Do you know where to find Darth Vader in Fortnite? And how to defeat him in the game. You can read this article and know more guidance about completing the Skywalker event. Players can get
Cheap Fortnite V-BUCKS
to buy their favorite skins or items for characters in the game.
Where to Find Darth Vader in Fortnite
In order to find Darth Vader, head to an imperial post located South East of Greasy Grove. If you have previously hunted Darth Vader, you might be scared that he will not be there. But this time, Vader only appears here, so you don't need to worry.
But before you actually go there, you must take some precautions. The most important thing you need is healing items because defeating Darth Vader is no easy task. Apart from that, make sure you have a good weapon that has a high damage rate. Darth Vader is not an easy boss to defeat, but if you pick your weapons wisely and bring some friends, it will be easier.
How to Beat Darth Vader in Fortnite
We should know that it is not easy work to defeat Darth Vader is no easy task. Nevertheless, with some preparations and tricks, you should be able to complete this task quickly. In the previous update, Darth Vader was accompanied by Stormtrooper guards, but now he's alone with two Star Wars chests nearby.
There are so many ways to defeat Darth Vader. The first option would be to loot one of the Star Wars chests, take the E-11 Blaster Rifle, and dodge every move that Darth Vader tries to unleash upon you while using the Blaster Rifle. Second, you can use the Explosive Goo Gun to spam left-click to melt his shield and health. The Explosive Goo Gun is one of the most difficult weapons to dodge in close and medium-range combat. Combine that with its massive damage, and you should have no problem taking down Darth Vader with it.
Tips of Beating Darth Vader in Fortnite
1.Once you are equipped and at the docking bay, the first priority is the Stormtroopers. They're low health and can be taken out with only a few shots, but having to manage multiple enemies is never fun.
2.Darth Vader has a lot of shields and a decent health pool, so make sure you take fast-healing items such as the Med Mist and Chug Splash, or you can deploy a Chug Jug to keep your shields up.
3.Darth Vader can leap long distances, toss objects, pull players towards him, and throw his lightsaber for big damage. Be wary of his options and engage from the maximum range possible.
4.We found it easier to defeat Darth Vader when he was already distracted by another player. This meant we had free reign to unload bullets, get his health down, then quickly grab his Lightsaber when he was eliminated.
When players have defeated Darth Vader in the end, you will be rewarded with his lightsaber as weapons. It is a really cool weapon for you to use in the game. And if you are going to unlock more items or cosmetics for characters in Fortnite, you can
Buy Fortnite V-BUCKS
to get them from the game-shop. You characters will be well-decorated with these good items in Fortnite.