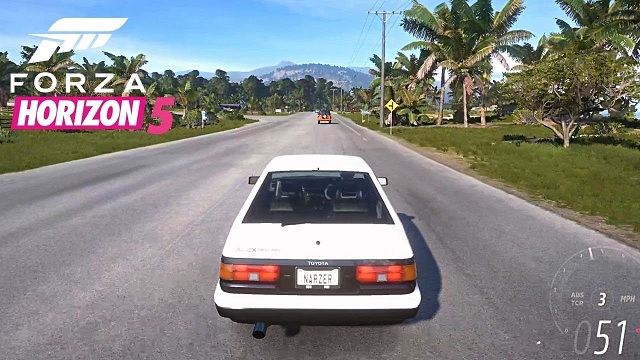 The reason players are willing to play Forza Horizon 5 is a variety of cars in the game. They can drive their dream car to compete with other players on the same road. Forza Horizon 5 has offered players a lot of cars to drive. And they can also find some special cars that come from the movies or cartoons, such as the DeLorean and AE86. In addition, players can also buy
FH5 Credits
to purchase some specific items in the game, which are required at some specific matches.
Toyota Trueno AE86 was introduced into Forza Horizon 5, which is known as the famous racing anime Initial D. It is seen as the rare car in the game. Player also have some ways to obtain it.

Players Can Obtain the AE86 From Wheelspins
When players are going to experience Forza Horizon 5 Progression systems, like consuming skill points on upgrading their cars, they will be given free wheelspins in turn. Players can get Wheelspins and Super Wheelspins from Forza's reward system. There are a variety of rewards in this reward system. For example, cool clothing and credits. If players are very lucky, they will be rewarded for a rare car, just like AE86.
Players Can Obtain the AE86 From The Auction House
If you can't get AE86 from the Wheelspins, you can also have access to get it from the Auction House. They can use the credits and other rewards they have got from winning matches in the Auction House. The Auction House is a community feature that players can bid against other players for the cars. So, they should pay more attention to the auction. And they may meet one auction about AE86 occasionally. If you don't want to miss an important auction about AE86, you need to take measures to collect more and more Forza Horizon 5 Credits in advance.
Players Can Obtain the AE86 From Completing Series 1 Challenge
Due to its live-service game features, Forza Horizon 5 will regularly hold timed events where players can obtain points to get special cars. The most relevant event is the Series 1 Spring Hot Season event, which awards players the AE86. It starts from December 2 to December 9, only a week.
If some players has ignored this event, they should not feel depressed. The official will hold these events regularly. They will have access to gain the AE86 at one event in the future.
Players Can Obtain the AE86 From Gift Drop
Some players think that it is not possible to obtain this car from gift drop which given by other players. However, you should also pay attention to this way. Forza Horizon 5 allow players to send excess cars to other players as gift. If your friends are not interested in the AE86, you can ask them to send it to you through this way. You can also give one rare car to your friends in turn. The gift drop is an interesting mechanic for players who want to exchange their cars in the game. They can experience the fun of driving some special cars each other.
If you are interested in collecting famous and meaningful cars in Forza Horizon 5, you can't ignore the famous AE86. You have known some ways to get it from above. Meanwhile, if you want to obtain other famous cars quickly, you can
BUY Forza Horizon 5 Credits
to purchase them from the Auction House. It can save you a lot of time on completing quests in the game. Cheap Forza Horizon 5 Credits are available on 5mmo.com.