One highlight of the latest GTA Online update is the return of the year-two adversary mode
Sumo Adversary Mode
which has some brand-new locations to test your skills. Players are able to check out the remixed version of Sumo for yourself on October 2. Besides, players can earn
double the goodies
in the Adversary Mode Sumo. Aside from this, GTA Online players can continue to earn double in
Terrorbyte Client Jobs
and
Business Battles
through October 8.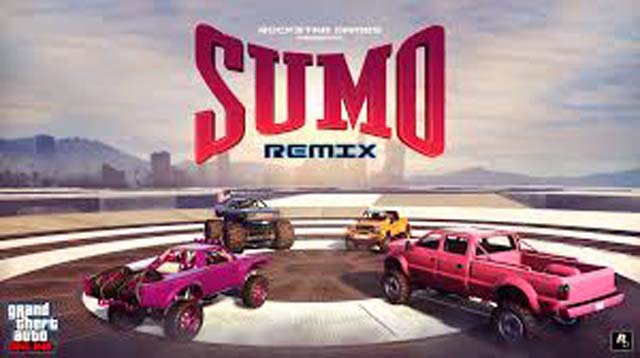 New twist in Sumo Adversary Mode
The original mode featured a variety of sedans, muscle cars and off-road vehicles vying for control of terrain - usually a small island or the roof of a skyscraper - and would end either when all of a teams opponents had been knocked off, or someone could no longer fit inside the shinking final circle. Sumo Remix, on the other hand, has its own custom stunt arenas and a constantly-changing, ever-shrinking safe zone. Players will have to race toward the new destination in order to stay in the match.While the original was a free-for-all demolition derby that eventually came down to a shrinking circle, Sumo Remix has everyone scrambling to get inside a new safe zone every 30 seconds.Each safe zone gets progressively smaller, so you'll need to fight aggressively as a team to ensure you get a spot inside the zone and keep your opponents out. Parts of the map will occasionally disappear as well, so you'll need to use caution when traveling between the zones. To go along with the remixed mode, seven new arenas have been added and the mode will be live until October 15. If you want to purchase a new car and unlock best equipment, visit our website:
5mmo.com
, where you can buy
Cheap GTA 5 Money
by using a code "
5MMO
" for a 3% discount.
Tips and tricks for Sumo Adversary mode
While the sport of Sumo is typically a mano-a-mano match up, this Adversary Mode is all about how you perform, not only solo, but as a team (depending on which variation you find yourself playing). In either case, you must first choose your vehicle carefully.
If you're playing solo, don't always drive at full speed when trying to push your opponent out. Vehicles in Sumo have the handbrake disabled, so it takes a lot longer to stop your charge if you miss them. Try to think strategically instead of relying strictly on brute force; watch your opponent's patterns of movement so that you can anticipate where they are headed next. By the same token, try to be unpredictable!
If you're playing on a team, you may choose a combination of vehicles. You could use the smaller, quicker vehicles to lure opponents to the edge of the map before more robust teammates deliver the killer blow. You may often see two cars deadlocked against each other in a war of attrition; supporting your teammate with a nudge from behind can tip the scales, but runs the risk of seeing them go over the edge as well as your enemy. Of course, if you have the players to spare, sacrificing a team mate could be the smart decision. If you've found yourself in one of these face-to-face (or bumper-to-bumper) pushing matches – using reverse and sharply turning can trick your opponent into driving out of the area completely. Alternatively, if you're determined to win the push war, remember to properly manage your power; coming off the throttle ever so slightly to allow your tires to find traction provides much more pushing power than going pedal-to-the-metal and wheel spinning.