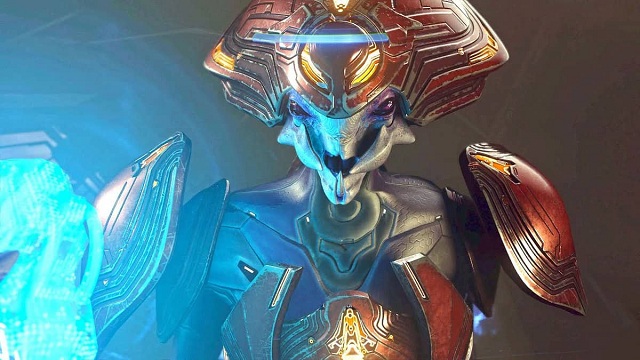 There are a variety of bosses for players to defeat in Halo Infinite. Different bosses are related with different levels of challenges. While some bosses are difficult for players to defeat, one of these difficult bosses is the Harbinger boss. To defeat the Harbinger boss in Halo Infinite, you will need guidance about how to use your strategies in the game. Additionally, players can buy
Halo Infinite Halo Credits
to upgrade their character in order to compete against other players in the matches in Halo Infinite.
The Harbinger alone is not too much of a threat. But the environment and enemies she calls to her aid can make things a lot harder. Especially for players on Heroic or Legendary difficulties, the Harbinger can present some serious problems. Without a little preparation and knowledge, it can take a long time to defeat Infinite's final boss. And, now that Halo Infinite has been so successfully received, there is no better time to defeat the Harbinger and discover how Master Chief's journey on Zeta Halo ends.
How to Defeat the Harbinger Boss
Each of the three phases against the Harbinger will begin with Halo Infinite's Banished enemies. As the enemies emerge, the door will glow blue and Master Chief can immediately begin throwing grenades as the door opens. For the first phase of the battle, there will be two rounds of Banished soldiers to defeat. Once defeated, the room will change colors as the golden light fades and the fight with the Harbinger will begin.
The Harbinger will attack Master Chief primarily with an orb of energy that she will shoot like a beam, which will immediately kill the player on the harder difficulty settings. Additionally, she will attack the player from behind by swiping at them. Both attacks should be dodged if possible. The Sentinel Beam is probably the best phase-one weapon to use against her, as it will remove her shields. Players can damage her until the shield is down. The Halo Infinite Grappleshot is an effective weapon against the Harbinger from the higher ledge and players can swing to gain distance and make higher shots.
This process will continue for several phases, and it's a mostly by-the-book boss showdown that anyone who plays games would be used to. But we do need to emphasize one point: each phase is markedly more chaotic than that or those before it. This means when Harbinger is nearly defeated and retreats into the shield once more, brace for an onslaught like nothing else in Halo Infinite. Every enemy class you've seen in the 15+ hour game to that point will be headhunting at once.
Keep your distance from the charging Brutes, dispatch the flying Sentinels, and watch for cloaked assassins, firing grunts, and more. It's a buffet of bullets, so stay nimble--ideally using the Grappleshot, but in this instance, a well placed Drop Wall might just save your life too, especially if it's been upgraded to be bigger and stronger.
As the lights shift once more, and you prepare for the final battle with The Harbinger, just focus on lowering her shields to win the fight. She'll begin attacking with even more intensity than before, but keep your nerve and continue using the Thrusters to dodge her attacks and hide below the big ramp for refuge. If you still have a Sentinel Beam by this point, blast her with it until you're done. If you follow these steps correctly, you'll have finished Halo Infinite, nice going!
Players will get much rewards from complete the difficult challenges in the game. If you expect to play well in the battles against bosses, you can
Buy Halo Infinite Credits
to purchase the best weapons or gear for your character. There are cheap prices about Halo Infinite Credits on 5mmo.com.