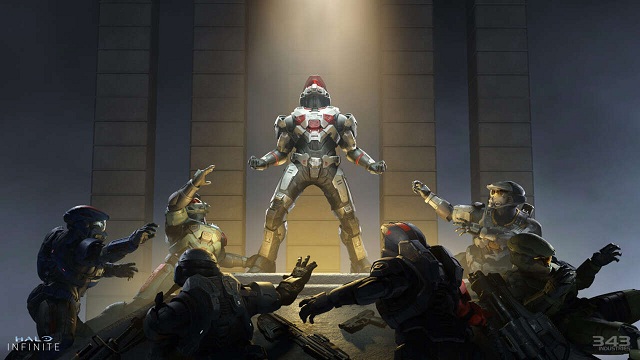 Players are amazed about the new update of Halo Infinite Season 2 Lone Wolves, and there are a lot of changes and a variety of new things for players to try. One of the most attractive things is the new game mode-Last Spartan Standing. This game mode displays as a battle royale mixed with deathmatch, so every player fight for themselves in this mode, and there are also other good settings for players to experience. If you want to play well in Last Spartan Standing Mode, you need learn some tips from reading this article in advance. Moreover, it is essential for you to collect
Cheap Halo Infinite Credits
to equip good shields for your characters in order to defend attack from foes in combat.

Last Spartan Standing Mode
Before you start honing your skills and dominating your opponents, it's important to understand how the game mode works and what your objective is. The 12-person mode is a free-for-all match, so each player is pitted against everyone else. Each player starts with five respawns, so once you die six times you're permanently out. Every player starts with the same set of weapons and can earn better ones as they earn XP by getting kills, assists, or picking up bonus XP left by eliminated players. Once the game gets down to only a few players remaining, the play field will begin to shrink. The Last Spartan Standing wins the match.
Tips For Playing Last Spartan Standing Mode
Looking For XP Bonus
Bonuses for XP are the most common currency, but come with two major risks. First, they appear as markers on every match's screen, so other players can easily camp near one to use as bait to flutter greedy players. Second is that you haven't just getting the XP, so you don't just touch them. You have to interact with them for a painful second or second, while you can't shoot or move, leaving you exposed. If you're going to get one, you don't do that only when you're confident that you're either alone or an escape route and avoiding close by if someone tries to jump.
Keeping Moving
Just like in Halo Infinite's Big Teams mode, the key to staying alive in Last Spartan Standing is to keep on moving. While this may seem obvious, players don't use this tip as often as one would think. In modes like Last Spartan Standing, it's crucial for players to keep moving because not only will they be harder to hit, but those players will also be more aggressive when running and gunning.
If players choose to camp during this mode, they can expect to be picked off, quickly costing them life. On the other hand, players that are moving can quickly hunt down others with ease, without the enemy players having to come to them. Being on the move can be used both defensively, with players dodging and escaping others; or offensively, with players chasing others to take them down.
Taking Care of Supply Drops
Throughout the match, supply drops will rain down from the sky. Inside, you can find either Active Camo or Overshield power-ups. Getting either of these power-ups gives you a massive advantage over your opponents, and you should constantly be aware of where these are and collect them whenever possible. You can usually hear them when they hit the ground. Getting an Active Camo from a drop pod is a massive advantage since there's no radar in Last Spartan Standing, and Overshield will allow you to take a lot more damage in a gunfight.
Playing Last Spartan Standing Mode makes players excited and stressed, they are enjoying the competitive matches with other gamers. And if you want to get good gear for characters in the matches, you can
Buy Halo Infinite Credits
to get them from the shop in cheap prices. Different kinds of weapons have made various effects on battle.