Rocket League is getting a new pass,
Rocket Pass 3
next week. Like previous pass series, it brings us a new set of items. This time,
it brings a big change for the pass's format: Weekly Challenges
. which will level you through the pass's tiers faster than normal. Here is everything you need to know about Rocket Pass 3 and Weekly Challenges, before you eagerly take the field on day one.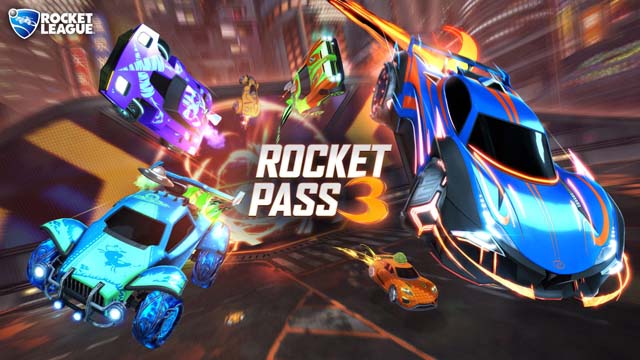 Rocket Pass 3 Release Date
Rocket Pass 3 will run from April 17 until July 29. Players can get access to Rocket Pass 3 by purchasing the premium Rocket Pass 3 track with 10 dollars. The pre-order is now available now.
Rocket Pass 3 New Weekly Challenges
There will be six new challenges every week – three for free players, and three for premium players. Players have to complete Weekly Challenges during the week in which they are active. They will expire once new Challenges become active during the following week.
Challenges are just as they seem: Side activities that come with their own rewards. They're mostly innocuous. Use certain quickchats in 15 online matches, rack up some stats with a special antenna equipped -- that sort of stuff. Even if you have not purchased Rocket Pass Premium, you can still work on premium challenges but you'll get those bonus tier points if you do end up purchasing it.
The Challenge list will refresh each Wednesday at 10:00 a.m. PDT (5:00 p.m. UTC) throughout Rocket Pass 3.
Rocket Pass 3 New Items
Rocket Pass 3 will feature 20+ items in the Free track, and 50+ additional items in the Rocket Pass Premium Track, including the all-new Guardian Battle-Car. Plus, there are Decryptors to earn on the Free track and a total of 10 Keys in Rocket Pass Premium.
The Pro Tiers are back! Pro Tiers (i.e. past Tier 70) will grant Painted items from Rocket Pass 3, and will have a chance of being Certified or Special Edition. As always, rewards earned from the Pro Tiers in Rocket Pass 3 are tradable.
New Rocket Pass 3 Reward System
Rocket Pass 3 introduces a new Rocket League reward system.Players climb Tiers by earning "Tier Points." Each Tier requires 10 Tier Points to advance to the next Tier. Players can earn those Tier Points by completing Challenges or Online Matches. Challenges will be worth three, five, and eight Tier Points depending on the difficulty of the Challenge. Also, to rank up higher, you can come to
5mmo.com
for
Cheap Rocket League Items
.
The Esports Shop
In addition, Rocket Pass 3 will be launching right alongside the Esports Shop Update which includes an Esports shop. The Esports Shop will open at on April 16 at 10 am Pacific, and will be stocked with decals, banners, and wheels themed after Rocket League Championship Series teams Cloud9, Dignitas, Evil Geniuses, G2 Esports, Ghost Gaming, mousesports, NRG Esports, Rogue, Splyce, TSM, Team Vitalit.
Each item will be available for a limited time—24 or 48 hours—and won't be purchasable with keys. A new currency, Esports Tokens, will be introduced. The cheapest items will be $1, and neither the items nor the Tokens will be tradeable.
That's all you need to know about Rocket Pass 3. For more on Rocket League, stay tuned to
5mmo.com
.