Far Cry New Dawn may be a spin off title, but it still takes place on Far Cry 5's large map of Hope County. In the case, it is necessary and important to
unlock the ability of fast travel
, which allows you to travel move great distances instantly. In addition, to make your trip mush faster and easier on the massive map of the game, you' re going to
need a vehicle in Far Cry New Dawn
. Therefore, this Far Cry New Dawn guide not only tells you how to unlock fast travel ability, but also how to unlock vehicle in the Far Cry New Dawn.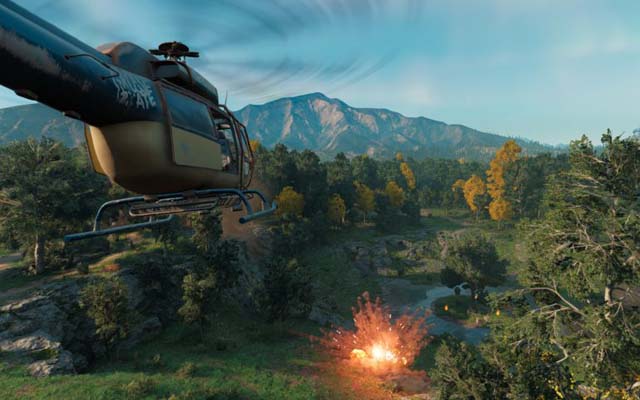 How To Fast Travel Tn Far Cry New Dawn?
At the beginning of the game, You can always Fast Travel back to Prosperity or to any of the 10 outposts in Far Cry New Dawn as long as you have Level 0 Expeditions Facility. However, you cannot Fast Travel to other locations. To unlock the ability to fast travel to discovered locations and upgrade your fast travel options, you need to head over to the stand where Roger Cadoret, the NPC in charge of Far Cry New Dawn's Expeditions in Prosperity, hangs out. If you invest ethanol into the Expeditions wing of Prosperity, you can then gain more options for how you'd like to fast travel across Hope County.
How To Spawn
Vehicles Including Helicopters and Planes?
To unlock vehicles in Far Cry New Dawn, you have to head to garages. You can access the garage through the Garage Menu. After accessing the Garage Menu, head over to the vehicle you wish to spawn and click on the spawn button. Then that specific vehicle will spawn into someplace near you.
Now, go outside the main gate and look to your right. You'll see the car sign. If you interact with it, you can now select your vehicle and it will spawn just to your left on the read. You can all the vehicles available in the video below.
if you wish to craft a vehicle, of which there are three tiers and types to craft, you need to collect specific crafting materials. You can buy some materials with
Cheap Far Cry New Dawn Credits
from
5mmo.com
. With a coupon code "
5MMO
", you can enjoy 3% off.
How To Unlock Helicopters In Far Cry New Dawn?
In Far Cry New Dawn, helicopters are essentially vehicles, but there are two kinds. First, there's the craftable, customisable type that you yourself can build and use as part of normal gameplay, and then there's the Expedition helicopter, which a pilot will use to take you to Expedition missions.
To unlock driveable helicopters in New Dawn, you have to invest Ethanol, blueprints and other similar resources into your Garage. To unlock the expedition helicopter, you need to head on over to Roger Cadoret and upgrade his selection of goods.
Now that you've learned how to fast travel in Far Cry New Dawn, for more st news, rumors and guides, be sure to check
5mmo.com
from time to time.