The latest Fornite update, Patch V8.30 is now live across all platforms and it is a particularly significant patch. Not only does it brings players a new limited-time event called
Buccaneer's Bounty
(You can check our previous article to see how to complete the first Buccaneer challenges and unlock free rewards), but also is adds a new respawn mechanic, called "Reboot Vans" to the game. Keep on reading for
how to revive your teammates with the new Reboot Vans and all the Reboot Van locations on the map
.
What Is The Reboot Van And How To Use It To Respawn Your Teammates ?
Basically, when your teammate falls down after being hit in squads or duos , they will drop the Fortnite Reboot Card. You will need to pick up this card quickly because the Reboot Card will also only be available to pickup for 90 seconds after it drops. But this is not all. After you've picked it up, you have to bring it to a Reboot Van. A glowing mark and audio cue will let nearby players know that a respawn – which takes 10 seconds – is in progress. Then your teammate will be able to drop back into the game. You will have to spend 10 seconds waiting for your teammate to return. They will not have the items they had before they died. Note that although ach Reboot Van can be used multiple times, each usage will require a 120 second cooldown before it can be used again.
If you are still unclear, you can see how the Reboot Van work in the video below:
Additionally, there are a couple of game modes that won't include the Reboot Van, though. These modes include: Solos, Big Team Limited Time Modes, and any other mode that would normally have respawns.
All Reboot Van Locations on Fortnite Map
There are at least 19 Reboot Vans located around the island in Fortnite, which means you'll have plenty of opportunities to revive your fallen squad mates and keep on fighting for that epic Victory Royale. Here's a map of a total of 19 Reboot Vans spread across the Fortnite Battle Royale map.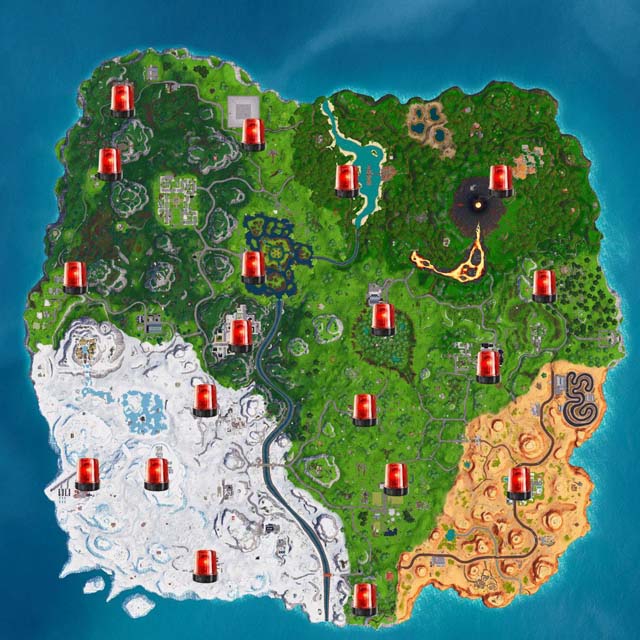 The other big draw this week is the aforementioned Buccaneer's Bounty event, which runs until April 15. Throughout the event, Epic will release different challenge for all players to task with every day. There will be a total of four different challenges. After completing each challenges, players will receive a free reward, as well as 1000 XP. So far, The first of these challenges is already available and asks you to visit pirate camps in different matches; you can consult our guide if you don't know where on the map to find those. The first challenge rewards players with a pirate-themed Plunder Glider. The final reward is a new Epic emote, a Boobytrapped Emote.
For more on Fortnite, stay tuned to
5mmo.com
. If you are in need of
Cheap Fortnite Top Up V-Bucks
,
5mmo.com
should be your first choice.