League of Legends Best Champions for 1v1: LOL Top 3 Characters for 1v1 Tournament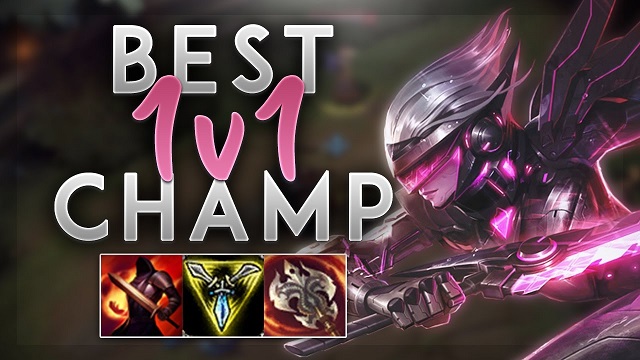 What is the best 1v1 champion in LoL? Stuck on which champion you should pick for the 1v1? Here's a list of champions which you can select the best 1v1 champs in the game, fitting for almost all of the fights.
1. Yasuo
Yasuo is one of the most obvious picks here, thanks to his dueling power which is incredibly strong from the very start of the game. Yasuo is very skill intensive and requires a lot of mastery before reaching his true potential, while also being fairly simple to pilot even in a casual player's hands. This character's power revolves around his big damage, high mobility, passive shield, and having no costs on any of his abilities. Without the enemy jungler pressuring your lane, you are free to run wild with this champion.
2. Jax
With a real weapon, Jax would not only blitz the Red Bull Power Spike tournament, but he would also blitz any tournament in League of Legends. Without a real weapon though, he's still one of the best 1v1 champions in the game. The versatility of the Grandmaster's kit is key to his 1v1 strength. Q – Leap Strike can be used both as an escape tool and engage tool, W – Empower is the best auto-attack reset in the game, and E – Counter Strike has unbelievable outplay potential. In terms of winning 1v1 fights, no champion is better suited than Jax.
3. Mordekaiser
Mordekaiser is an unstoppable beast. His skills give him extra shield and he can even heal himself, staying in battle for a long time. He was good before his rework and he is better after the rework. Why is Mordekaiser awesome for 1v1: With his new ultimate, he is the 1v1 champion, dragging his enemy to another dimension to fight while applying a huge debuff on them, stealing their stats for himself. His Q deals damage in an area but it deals extra damage to a singular target. His passive makes him deal extra damage with his basic attacks and stacks to 3 times. After full stacks, deals extra damage to the area around him for a duration, while refreshing the duration with every hit to the enemy champion or hitting a large monster. His E gives him magic pen. Passively and his W stocks the damage he is dealt as a shield, healing him after casting.
To build a powerful characters in League of Legends, you need enough LOL RP to help you! To enhance your adventure, you are recommended to buy cheap
League of Legends RP
at the reliable game store 5mmo.com, cheap, safe, fast, 24/7!