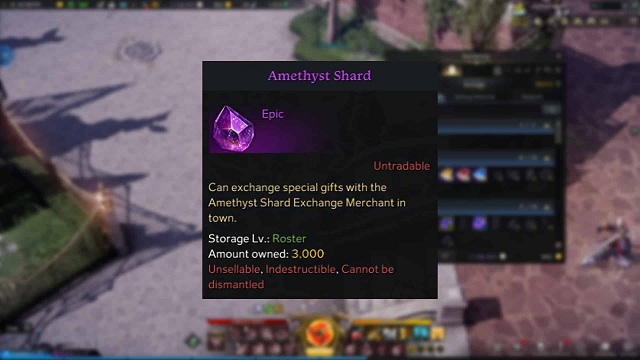 Lost Ark Gold is a universal currency in Lost Ark, while Amethyst Shards are less-known currencies in the game. Although some players have got a lot of Amethyst Shards in their inventories, they don't know how to use them in Lost Ark. Some players are also curious about how to collect them and what they can buy with these mysterious purple crystals. From this article, you can know how to spend Amethyst Shards in Lost Ark. In addition, players should prepare some essential potions for characters by using
Cheap Lost Ark Gold
, which make them pull through terrible situations in the dungeon raids.

How to Spend Amethyst Shards in Lost Ark
Players will need to exchange shards if they want to receive valuable items. To exchange shards, players will first be required to find Mysterious Man, who doubles up as the vendor required for the shard exchange.
Mysterious Man can be found in areas classified as end-game locations by Lost Ark. He is commonly found in North Vern, but can also be found in Nia Village in Punika, Rothun in Rohendal, and Luterra Castle in East Luterra.
The Mysterious Man only deals with Amethyst Shards, and players can exchange their collected shards for items they want. The merchant also offers quests that can help players earn even more shards.
How to Get More Amethyst Shards in Lost Ark
Hidden achievements are the primary method for Lost Ark players to collect Amethyst Shards. The hidden achievements can be located in the achievements menu and generally reward players will premium rewards. However, some of the tasks can be pretty challenging and will require some time before players can complete them to earn those rewards.
Out of all Lost Ark's various different Currencies such as Silver, Gold, Blue Crystals, Royal Crystals, and more, the Amethyst Shards are one of the most difficult to grind. Unlike almost everything else in this MMORPG, there are a limited amount of them to farm, and the methods of doing so usually take quite a while.
There are two ways to get Amethyst Shards for the Lost Ark merchant. The first one is via Twitch drops and by linking your Lost Ark account with your Prime Gaming account. As for the Twitch drops. When it comes to linking it with your Prime Gaming account, you can find all the info here. Every so often, you'll get a little drop of loot, among which you can get an Amethyst Shard pack. Not always, but definitely in the first one.
The main way players can get Amethyst Shards is by searching through their Acheivements to see which ones have Shard rewards. A few of these are hidden Achievements, such as the "People Person" Achievement, which rewards 1000 Shards for getting a whopping 50 different names on a single friend list at one time.
Because Amethyst Shards are such a limited resource in the current version of NA/EU Lost Ark, are they even worth using at the moment? In all honesty, not really. The only two rewards that most players agree are worth it are the Notos Orka Ship Skin and the Gold Combat Wolf Mount.
The Orka Ship Skin is actually obtainable for those who have already kept up with the Shards given through Twitch Prime previously. Meanwhile, the Gold Combat Wolf Mount is a far-reaching purchase due to its 22k Amethyst Shard Price. Aside from those two things, it's completely up to the individual if any of the other products are worth buying.
Players can try to collect enough Amethyst Shards to exchange their desired items from the mysterious merchants in Lost Ark, while you can also
Buy Lost Ark Gold
to select some rare items for your characters in order to enhance their ability of survival in the process of questing.