Lost Ark Game Guide: Casrick World Boss And Where to Find Casrick Boss in Lost Ark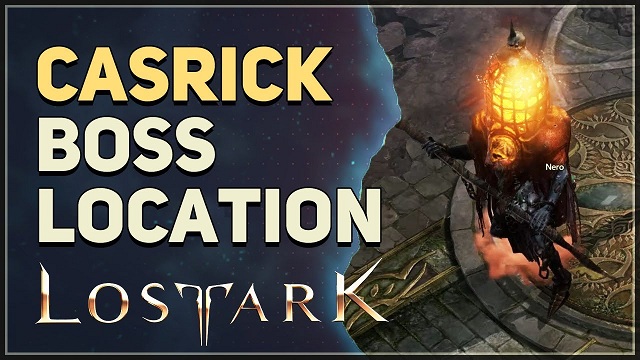 When players step into the large continent of Lost Ark, they may meet different kinds of enemies or bosses during exploration. While there are also many hidden bosses waiting for players to discover in the world. One of these hidden bosses is Casrick. In order to complete the relevant quest, players need to find Carick Boss and defeat him eventually in Lost Ark. This article will tell you how to do in the game. In addition, it is necessary for players to equip enough HP Potions by using
Cheap Lost Ark Gold
during exploring the world of Lost Ark.

Where to Find Casrick Boss in Lost Ark
To begin with, Casrick is found on the continent of Vern North. Once you've arrived, there are a plethora of places where he could be hiding. In order to locate Casrick, you must first travel to a specific location.
The Balankar Mountains are home to the Casrick boss. All you have to do to find Casrick is find the room he's hiding in, whether you're coming through the east side from Rania Village or coming through the mountains from the northwest side from the Elveria Ruins.
How to Defeat Casrick Boss in Lost Ark
While difficult, finding Casrick is pretty simple. On the other hand, defeating Casrick is a very different beast. Casrick has almost 10 million health and is level 50, unlike Wili-Wili. It goes without saying that you should not attempt to defeat Casrick on your own. Before attempting to take on Casrick, make sure you have properly recruited your party.
Wait thirty minutes if Casrick isn't waiting for you in the room when you arrive. Every boss in Lost Ark has a thirty-minute respawn time, so if you have extra time, make sure everything is ready. You might need the powerpass if you want to be sure you can take Casrick on.
Casrick is a slow runner, so you can take him on alone if you have fast attacks, but fighting in a group will be preferred. Casrick's attacks will all be timed, so you will be able to see where he will strike before he does. Before he lands his attack a red full or semi-circular pattern will form on the ground, which you can dodge easily.
If Casrick isn't waiting in the room for you when you get there, wait thirty minutes. Every boss in Lost Ark has a respawn time of thirty minutes, so make sure that everything is ready if you have extra time. If you want to make sure you can take Casrick on, you may need the powerpass.
Once you have taken Casrick down, you will be rewarded with some sweet loot. Like every great RPG, bosses give the best loot. The bosses in Lost Ark know this rule well. Upon defeating him for the first time, Casrick will reward you with 3 pieces of Epic Gear, 1 Epic Accessory, 2 Uncommon Combat Engraving Recipe Selection Pouches, Stone of Endurance, Secret Map, and Eternity Essence. And, of course, you'll earn a hefty amount of XP for your troubles.
Players may find that the location of Casrick is easy to find through the map guide. And the process of fighting against him is difficult. Players should think about different methods in order to complete this hard quest. The equipped party is an essential way to help players to defeat this giant boss.
Players may get some good rewards from accomplishing this competitive quest. You will meet other hard bosses in the later game, and you can
Buy Lost Ark Gold
to purchase some useful weapons for your characters, which make you defend the attacks from different kinds of foes in battle. Some ranged weapons will make huge damage on a large scale of enemies.