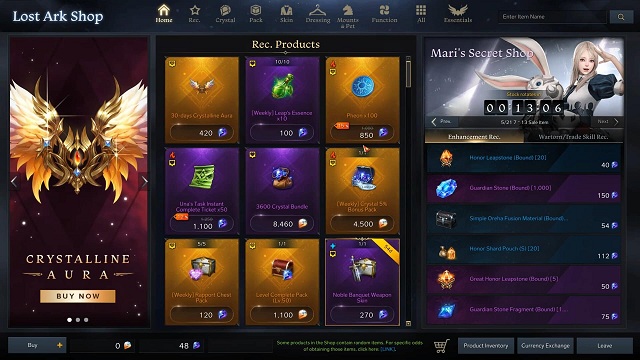 Players who have played Lost Ark for a long time find that there are a lot of different currencies in the game. For instance, the gold or crystals, which can be obtained by completing in-game activities. While, when it comes to Pheons, many players are confused about it. If you want to know how to collect more Pheons in Lost Ark, you can read this article and know the guidance. Players can get
Cheap Lost Ark Gold
to equip necessary potions for characters in the process of exploring fierce dungeons.
What's Pheon in Lost Ark?
As one of the currencies in the game, Pheon is used to buy rare items like gear and consumables from the Auction House. It is a legendary item that is bound to your roster.
By "Bound to Roster", it means this currency is available among all the characters on the server where you first get the Pheons. But your characters on other servers cannot use this. It is not tied to your account but to your server.
Pheons are designed to prevent players who are able to buy out certain items and flip the market by "buy low and sell high". It is essentially a trading tax players paid for buying rear items on the AH, which can more or less limit gold sellers and make it harder to buy all the way straight to the top.
How to Get Pheons in Lost Ark
There are 2 ways to get Pheons in Lost Ark.
From Daily Login: Simply launch the game and daily login rewards. One of the rewards among them will be Pheons. Keep logging in daily to make sure you don't miss out on them.
Using Blue Crystals: You can buy Pheons in exchange for Blue Crystals. It typically costs 850 Blue Crystals to get 100 Pheons.
Blue Crystals are an in-game currency that can be earned by spending in-game gold at Lost Ark's currency exchange. They are also obtained by buying items in the Lost Ark store using Royal Crystals that are paid for with real money.
Royal Crystals are essentially the most premium currency in the game. Many players pay with them for certain items that cannot be acquired otherwise. We're talking about cosmetic items such as pets, armor skins, weapon skins, etc. There's only one way of receiving Royal Crystals – in-game shop.
How to Use Pheons in Lost Ark
Once you have a hefty collection of Pheons in your pocket, you might want to start spending them. Trading Pheons in Lost Ark can net you some cool items in exchange for them. To do this, simply head over to the Auction house and trade your Pheons for some of the following items available:
Avatar, Seal Books, Equipment Chests, Enchant Materials, Voyage, Pets, Mounts, Misc, Gem Chests, Combat Goods, Food, Life, Adventure Book.
Many players find that it is not easy to collect more Pheons in Lost Ark, you should stick to completing more quests and collecting more relevant currencies through rewards. And you have access to purchase some rare gear or materials from the auction house in Lost Ark. Or you can
Buy Lost Ark Gold
to purchase necessary weapons for characters to ensure that they can explore more dungeons and get more good rewards instead.