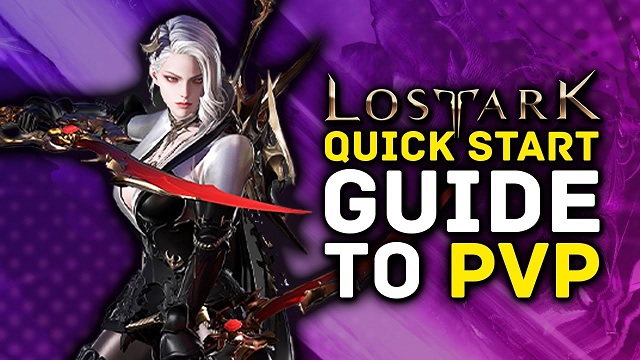 Some players who first meet the PvP system in Lost Ark may feel chaotic and confused, they think that it is not easy to figure out the complex system. While there are a lot of good rewards from the ranks of PvP System, they still want to win more matches in PvP mode and climb up high ranks in the game. If you are interested in winning more matches in PvP mode, you can read about this article to learn the guidance. If you want to improve the damage of characters, you can use
Cheap Lost Ark Gold
to buy powerful weapons for your characters in Lost Ark.

Lost Ark PvP Modes Guide:
Team Deathmatch: It involves two teams of three, with the winning team being the one with the most kills after a certain amount of time. Because you'll be working together with other players, consider everyone else's class while you're waiting for the battle to begin. If you have a support class like Bard or Paladin in your team, always try to combine your buffs and debuffs together to help swing the odds in your favor.
Deathmatch: This is your standard all-against-all brawl between 6 individual players. There are no teams in this mode. So it's a good opportunity to just hop in and maybe warm up & cause some chaos. DM is definitely a more casual mode.
Team Elimination is a bit more unique. Elimination puts a twist on the traditional 3v3 formula, and instead puts you into multiple 1v1s. Before the match starts each teammate chooses where they would prefer to start in order of first up to last. Then each team will send out their warrior in a winner-stays-on format until one is left standing.
How to Win more Matches in PvP Modes
You should take care positioning all the time
This needs to be the first lesson players learn when diving into the Proving Grounds of Lost Ark, and that's the lesson of Positioning. While Positioning obviously matters for a large majority of LA's endgame content, such as Abyssal Dungeons and Raids, it's a bit different here.
It's more than just making sure to stay out of the red telegraphs and attack the boss from the most Class-efficient area (AKA Front or Back attacks). In addition, players must be aware of their animation startups, the range of their attacks to a pixel-perfect degree, and how far their opponent's attacks will reach. A simple misstep in positioning can easily get a player trapped in an infinite combo that takes them from 100 percent to dead in a few short seconds.
You should remember the strengths and weakness of your roles
If you want to win more matches in PvP modes, Lost Ark PvP players need to learn their Role in regard to their class. For the most part, the Combat Role of each Class in PvP is pretty similar to their role in the PvE content. Gunlancers are aggressive tanks, Berserkers are button-slamming damage dealers, and Sorceresses are trap-planting queens.
You need to remember your strengths and weaknesses of roles in PVP! If you're playing as a Gunner, there's no reason for you to be up close and personal to anyone on the enemy team, and squishy assassins are just as squishy in PVP as they are in the main game. If you can buff or heal your allies, don't forget to do so!
You should pay attention to improve Burst Damage
PvP is all about choosing abilities that maximize burst damage, meaning you can one-shot lower health enemies and squishy targets. This is especially important as crowd control (CC) abilities (stuns and so on) aren't as powerful in the PvP setting.
In order to win more matches in Lost Ark PvP modes, you need to equip good gear for your characters, you can
Buy Lost Ark Gold
to select the best one for them to enhance their abilities.