Madden 20 Ratings: NFL 99 Overall Players Club Revealed and Aaron Donald Is Joins It
EA plans
to reveal their "99 Club" this week, which would be the overall 99 rated players in Madden NFL 20.
Who do you think they are? As of Monday, July 8, there was a revelation about Madden 20 players rated 99 overall in the new football title, though. On Monday, there was a mysterious "mural" that popped up on Twitter. It revealed that only four NFL stars will have a 99 rating in Madden 20. The mural also showed just the outlines of the four players, leaving gamers to guess who they might be. As of Tuesday, we now know the first of the Madden NFL 20 players who is part of the exclusive "99 Club."
Los Angeles Rams DT Aaron Donald 99 overall in Madden 20
Here's what the mural looks like. Commence speculation now.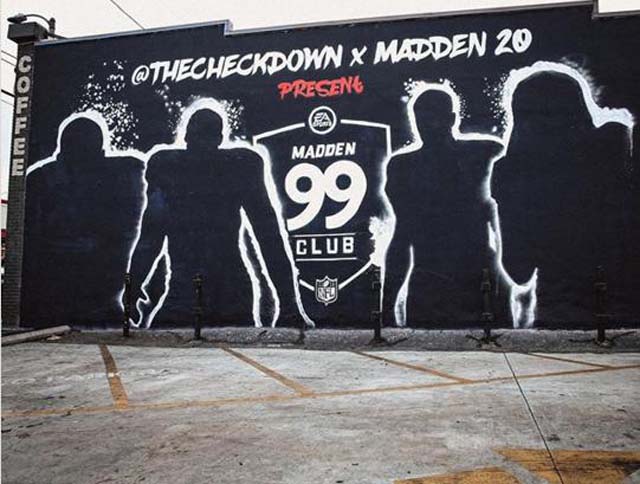 The mural is located at 2270 Venice Blvd in Los Angeles. Throw that address in your GPS and you'll discover the first 99-rated player in this year's release.
The first member of Madden 20's 99 Club is
Los Angeles Rams defensive star, Aaron Donald
. Not only did they unveil the first of the Madden NFL 20 players in the special 99 Club, but EA also provided a report on Donald's top skills. Here's what Madden 20 had to say about his overall skill-set, as well as some of his special abilities in the game:
99 strength - Best in Madden 20
99 Power Moves - Best in Madden 20
98 Pursuit - Best in Madden 20
97 Block Shedding - Second-best in Madden 20
96 Finesse Moves - Second-best in Madden 20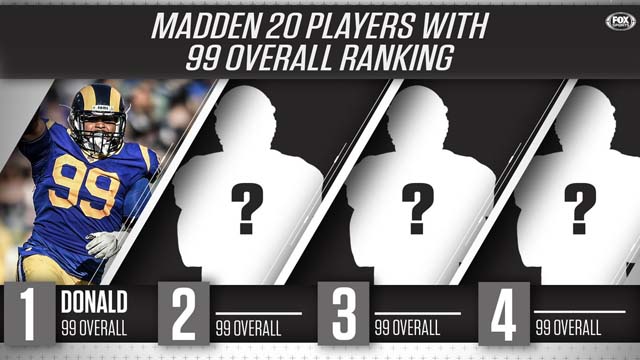 With the combination of Donald's 99 OVR and his suite of Superstar X-Factor abilities, you can imagine how much of a dominant force he will be in Madden NFL 20. When his Fearmonger Zone ability is activated, he will be able to apply pressure on opposing QBs even while engaged with blockers.
Nothing here comes as a surprise because of how good Donald really is, though it's nice to see him rewarded in Madden 20. Of course, there isn't a big change as Donald was also rated 99 in Madden 19, and deservedly so.
Other stars might not have been as lucky; last year's game featured seven players rated 99 overall. They include:
Tom Brady
Aaron Donald
Von Miller
Aaron Rodgers
Luke Kuechly
Antonio Brown
Rob Gronkowski
At the end of the Madden NFL 19 season, only Aaron Donald and Antonio Brown were overall 99 rated players.
Rob Gronkowski hung up his cleats. That could mean two players from last year were downgraded. It could also mean some breakout stars -- Patrick Mahomes, Alvin Kamara, etc. -- took their spots.
The only way you'll know before the game is released on Aug. 2 is to wait until Wednesday to see which of the Madden 20 NFL players is the next reveal for the mural.
Stay tuned with 5mmo as we'll have the details as soon as they arrive at our Madden news page. In addition, we also offer
Cheap Madden 20 Coins
for players who are in need.