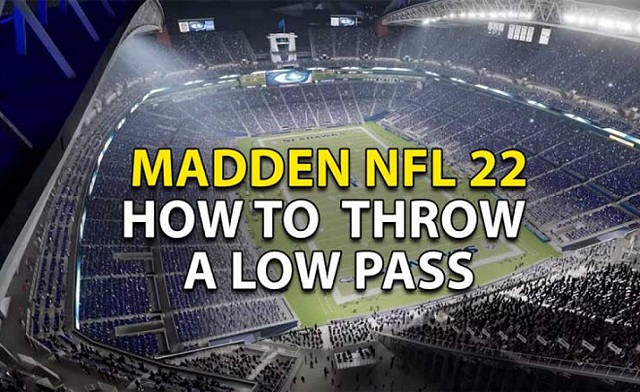 How do you throw a low pass in Madden 22? How do you throw the ball low in Madden 22? If you want to find the answer, this article will meet your requirement!
What is the use of throwing low pass?
Madden 22 offers a lot of variety in terms of the passing game. Not only can determine how the football is thrown by the push of the button, but also how high and low you want it to be. Low passes can be effective in a number of situations, especially in those where the receiver is close to the QB, and you want to avoid an interception at all costs. Low passes can be a bit tricky to use, so let's go over what you need to know.
The low pass in Madden 22 is great for keeping the ball out of the hands of secondary defenders; the ball is typically knee-level or below, giving only your receiver the best chance of catching it. It's not that a low pass doesn't have a chance of getting intercepted, but it's more that the chance is very low.
Low passes can get knocked down at the line of scrimmage by a swatting lineman, or even go straight into an O-lineman's helmet if thrown at the wrong time.
You can throw low passes anywhere on the field, though they're best thrown in congested areas and against man coverage, where DBs are most likely to be all over your receivers. Quick outs and curls are good options for low passes, especially in short-yardage situations.
How to throw Low Pass?
·Locate your team's wide receiver.
·Hold down L2/LT (PlayStation/Xbox).
·While holding, firmly press the button shown over the wide receiver's head.
Do not hold down or lightly tap the button over the wide receiver's head. These will prompt different types of passes and likely mess up your maneuver. It could take practice to figure out how strong to hold the receiver's corresponding button—so don't worry if you don't get it right away.
Once your receiver has stopped and is waiting for the ball, throw a low pass. This will pick up the necessary yards for a first down or touchdown. Also, it's a safe decision, as this minimizes your chances of the receiver fumbling or you being picked off. Of course, using the best QBs in the game also minimize this chance as well.
Throw a low ball will cause the difficult of taking the ball by rival, it can raise your win rate somehow! And getting cheap
Madden 22 Coins
can also create you a chance to build the ultimate team and become unstoppable!