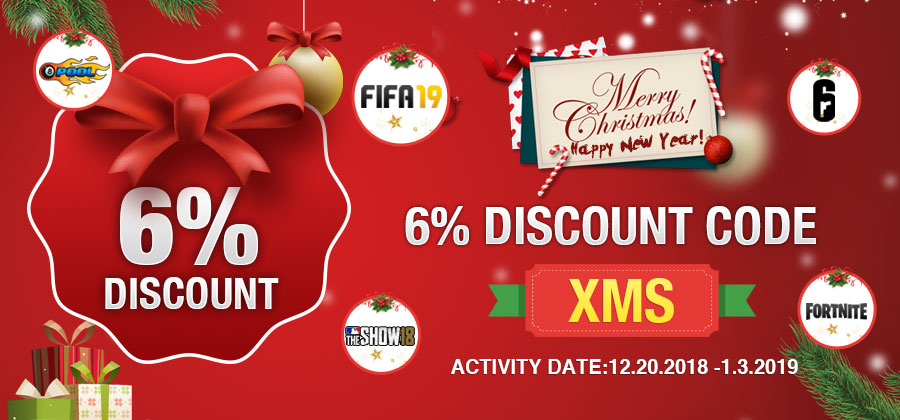 To celebrate the upcoming holiday season and express thanks for your long-time support to our website, from today,
5Mmo.com
is holding a grand promotion and offering huge discounts more than you can imagine on in-demanded games, including Rainbow Six Siege, Fortnite Top Up V-Bucks and so on. So, if you have been longing for a new skin for your character in Fortnite or thinking about a legendary cue in 8 Ball Pool? Size the rare chance and don't miss out!
From December 20 th to January 3 rd,
you can enjoy a 6% discount by using the code "
XMS
" at our website. Once you make an order, and we promise to send items to you immediately. By the way, share this exciting news with your friends and rock this winter in the game world together. Now, let's have a look at the games on promotion during the next two weeks.
FIFA 19 Account:
https://www.5mmo.com/cheap-fifa-19-account/
MLB The Show 18 Stubs:
https://www.5mmo.com/mlb-show-18-stubs-cheap/
R6 Credits:
https://www.5mmo.com/r6-credits/
Fortnite Top Up V-Bucks:
https://www.5mmo.com/fortnite/
FIFA Mobile Coins:
https://www.5mmo.com/fifa-mobile-coins/
8 Ball Pool Coins:
https://www.5mmo.com/8-ball-pool-coins/
Date of Promotion:
Dec 20 th - Jan 3 rd
5Mmo.com