For those who are tired of NBA 2K19, you can look forward to NBA 2K20 now. So far, there's no official word on anything related to the upcoming NBA 2K20, however, a recent leak suggests the release date and cover star for the Legends edition of the upcoming NBA 2K20. I
t seems that NBA 2K20 is set to hit the market on September 6. Miami Heat superstar Dwyane Wade who announced his retirement from the sport earlier this year is very likely to be the cover athlete of NBA 2K10 Legends edition this year.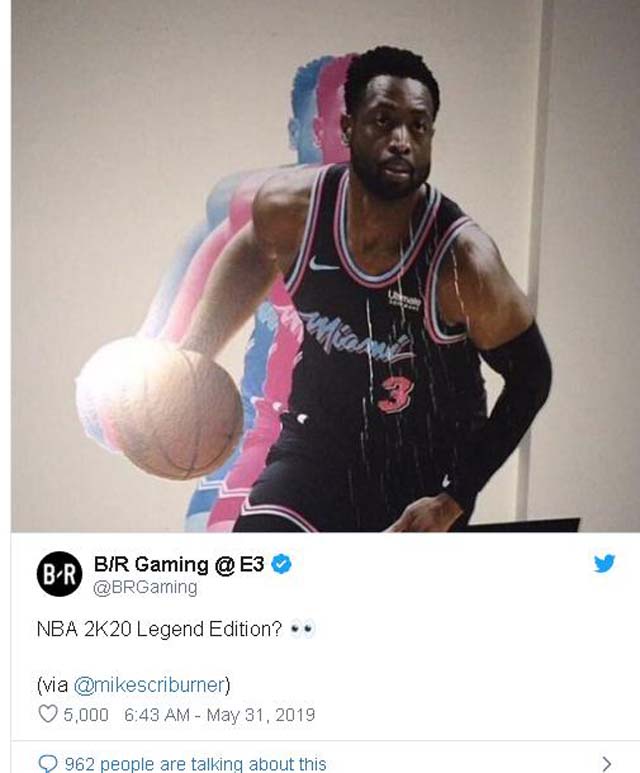 BR Gaming were the first to report the leak, posting an image featuring what looks like a cardboard cutout for the franchise similar to those you'd normally see at a video game store. The cutout, seemingly intended to promote pre-orders, says that the game will be "available September 6." September 6 is a Tuesday. Not only does the series typically release in early September, but it also typically releases on Tuesdays. So it all lines up and adds to the potential legitimacy.
Moreover, the cutout also provided information on who the cover star for the Legends edition will be. It features an image of Miami Heat superstar Dwyane Wade. Wade is arguably one of the best shooting guards in NBA history. Over his 17 seasons in the NBA, Wade averaged 22 points per game. He won three NBA Championship rings with the Miami Heat across two different stints. With the 13-time All-Star retiring at the end of this season, it definitely seems like a fitting tribute to one of the greatest shooting guards on the court.
As with Standard Edition cover, it could be any one of several star players. However, it's probably not going to be a player who has been on the cover recently. That eliminates Milwaukee Bucks' Giannis Antetokounmpo, who was the cover athlete for NBA 2K19. 2K hasn't used the same player in back-to-back seasons since Shaquille O'Neal was the cover star for NBA 2K6 and NBA 2K7.
So far, 2K hasn't really teased what changes it will make, but for a landmark release like 2020, you'd hope it would make some meaningful improvements and add some meaningful features.
Whatever the case, we should be hearing more about the game quite soon. E3 is over. Un fortunately, we didn't see any further details on NBA 2K20,but we will see reveal on NBA 2K20 sooner rather than later, as September isn't very far away. For more leaks, news and updates on NBA 2K20, stay tuned to
5mmo.com
, a best place for
Cheap NBA 2K 20 VC and NBA 2K 20 MT Coins
.