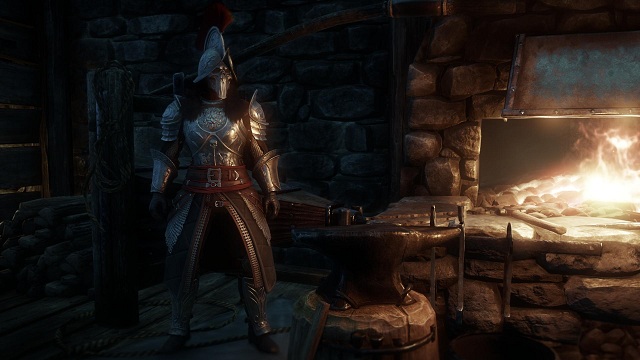 There are many kinds of practical trade skills in New World. One of these skills is armoring. If players want to upgrade their armor in the game, they have to level up their armoring skills in advance. Players who want to wear high level armor expect to level up armoring fast. We are going to tell you the guidance about how to level up your armoring fast in New World. Players can get
Cheap New World Gold
to craft their necessary gear or weapons in the game.
The Armoring Skill in New World
Armoring is the crafting trade skill that allows you to make your own Shields, Bags, and Armor at Forges and Outfitting Stations. You can find these particular Trade Skill Stations at each of the 11 major Settlements.
In order to develop your armoring skill, you'll need to collect a lot of ore (both raw and refined into ingots), cloth, and leather materials. This means that you should spend as much time as you possibly can building up your gathering trade skills, particularly in the fields of Mining, Tracking and Skinning, and Harvesting. You will also want to give plenty of attention to your refining trade skills, particularly in the fields of Weaving, Leatherworking, and Smelting.
How to Level Up Armoring Trade Skill Fast in New World
Sticking to a lower Tier is the best method of quickly leveling up the Armoring Skill in New World. The main reason behind that is the cost of the crafting materials as they rise with higher Tier. The cost of crafting almost doubles at higher Tiers so it is not recommended. The other reason that you should go with a lower Tier is the resources are a bit easy to find.
From levels 0 to 50, we will start by crafting each piece of armor to obtain the first time craft bonus. You can craft the armor pieces at the outfitting station and forge. Crafting every piece of armor should provide enough experience to level you close to level 50. Whatever experience remains, we will craft coarse leather gloves.
Once you are level 50, transition to the next tier level because Amazon has reduced the amount of experience you receive from crafting a tier below your actual level. This same experience reduction applies when you reach levels 100 and 150.
Now, we need to reach Armoring level 100 from 50. When you reach Armoring level 50, you will have several choices to choose from when needing to craft. Once you reach that level, you will unlock the Sateen clothes. Sateen is easily the favorite to reach Armoring level 100. But we have different choices for Sateen as well, and that's is why we will use two items instead of one. We will be using the Sateen Leggings / Pants and the Sateen Gloves. To reach level 100 from 50, you will need an additional 155,250 Armoring XP points.
At 150-200 Armoring, stick to the gloves. You'll now be producing Infused Leather Gloves, that require Infused Leather, Iron, and Linen. Iron and Linen are the same as ever, and you'll need to either purchase these or farm them yourself. Infused Leather is a more time-consuming process that requires the refining of Rawhide into Rugged and so on. This can get more expensive.
Players who are still looking for ways to level up the armoring skill in New World can consider the way mentioned in this article. You will get powerful armor when you reach high level armoring skill in the game. In addition, if you are lack of enough materials for crafting, you can
Buy New World Coins
to select your demanded materials and craft your desired items in New World.