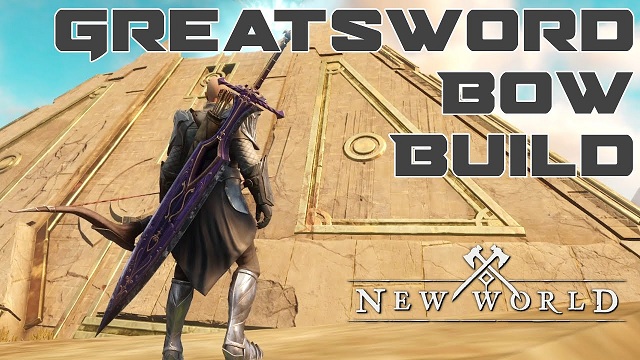 Due to the update of New World Brimstone Sands, the Greatsword weapon is introduced into the game. Some players find that the combination of greatsword and bow is a good choice for characters' weapon build. Although the greatsword and bow weapon is easy to get in New World, players also feel confused about the weapon build. If you are interested in the greatsword and bow build in the game, you can read this article and learn from the guidance. Players can use
New World Gold
to level up their weapons rating in order to complete more difficult quests in New World.
How to Make the Best Greatsword and Bow Build in New World
Greatsword Weapon Build
The Greatsword is a unique weapon that swaps between an Offensive Mode called Onslaught Stance and Defensive Mode called Defiant Stance after using its abilities or certain passives. These stances are temporary but offer powerful benefits while they are active.
What's great about the Greatsword, no pun intended, is that it scales from both strength and dexterity, making it an amazing pair for a wide number of weapons in the game. For the attributes you should go with a base 188 Dexterity and 12 Constitution, Dexterity is our main attribute because both our weapons scale well with it.
For the Greatsword we'll be using mostly the Skyward Slash, which is a great Ability since it doesn't lock you into an animation. Relentless Rush is one of you main abilities as well for chasing people down whether to enter the battle or going for the finishing blow.
For the gear you'll want to maximize your Nature damage. This build is focused on dealing Nature damage so make sure you have armor perks like Arboreal Physical Ward and weapon perks like Augmented Arboreal.
As a general rule, always aim for perks that enhance your active skills, and keep an eye on the character's armor weight as well, depending on the build and the difficulty of the content you are using it for. For example, you can use light-medium weight for PvP and medium-heavy for Mutated Expeditions on the highest levels. Totally up to you.
Bow Weapon Build
PvP builds for Bow are almost exclusively in the Hunter tree because the Skirmisher track has more close-range abilities, crowd control, and mobility. Close-range abilities and crowd control aren't as useful when using Great Sword with a Bow because players will probably be fighting with the Great Sword for melee.
Many builds use Evade Shot from the Skirmisher tree because the mobility is convenient, but it also depends on how close to combat players plan to use their bow. As far as New World weapon tiers go, Bows have continued to be popular for PvP since the game's release.
In PvE, your role is to engage enemies at a distance and either kill them before they can get to you or do enough damage that they are easily dispatched shortly thereafter. When in an Expedition, you will want to help take down large groups of enemies while not drawing aggro off of your tank. Unlike in other MMOs tanks have limited access to taunts and DPS have no aggro resets, so you have to be careful to let the tank get aggro before you blast the damage.
For Abilities, we recommend Penetrating Shot Penetrating Shot, Rain of Arrows Rain of Arrows, and Poison Shot Poison Shot, as these all do decent single target damage but great area-of-effect damage as well.
If players want to try the greatsword and bow build in New World, you can learn from the guidance and make the best weapon build for your characters. And you can also change the way of weapon build according to your roles in your factions. If you want to level up your weapon rating quickly, you can
Buy New World Coins
to purchase the necessary materials for leveling. These enhanced weapons will help you defeat more enemies in the dungeon battles.