NHL 19 Player Rankings: NHL 19's Top ten Players Including Crosby, McDavid Revealed by EA Sports
Let the debates begin as
EA Sports NHL 19
ratings were revealed earlier yesterday. With each new edition of the game, fans are looking for which stars are considered the best of the best. For this year's title, that honor goes to the league's young rising star on the Edmonton Oilers. EA Sports notes that McDavid has skating rated at 96 and passing at 95. McDavid is certainly deserving of the top rating for NHL 19 as he continues to emerge early in his career.
McDavid was given an overall rating of 94 compared to Crosby's 93.
Alex Ovechkin, Drew Doughty and Carey Price
tied for third with 92 ratings, while the top 10 was rounded out by 91-rated Nikita Kucherov, Victor Hedman, Evgeni Malkin, Patrick Kane and Steven Stamkos.
EA Sports has released the rankings for the top 50 players in the soon to be released NHL 19. Use this 3%-off coupon to buy Cheap NHL 19 Coins from our site: "
5MMO
". Five Washington Capitals player made the list, with Conn Smythe winner Alex Ovechkin placing third overall.
The top 10 in-game players and their overall rankings are as follows:
Conor McDavid, Oilers (94)
Sidney Crosby, Penguins (93)
Alexander Ovechkin, Capitals (92)
Drew Doughty, Kings (92)
Carey Price, Canadiens (92)
Nikita Kucherov, Lightning (91)
Victor Hedman, Lightning (91)
Patrick Kane, Blackhawks (91)
Evgeni Malkin, Penguins (91)
Steven Stamkos, Lightning (91)
Because NHL 19 involves teams being simulated against other teams, many players' ratings need to reflect the strength of the team more so than their real-life attributes to ensure that game modes like Franchise Mode run realistically. So, this leaves EA Sports in somewhat of a bind: they need to balance the game, but also give better players enough value to make individuals similar to their real-life value.
NHL 19, the latest in EA Sports' popular hockey video game series has been releasing its player ratings over the last little while, and its top 50 players have been revealed in 10-player instalments. 90 percent of the
Cheap NHL 19 Coins
orders can be completed within 5-10 mins, come to
5mmo.com
now, you can buy NHL 19 coins with fast delivery speed. Their skating ratings are somewhat surprisingly identical save for a small gap in endurance, given skating being one of few areas in which Laine has room for improvement.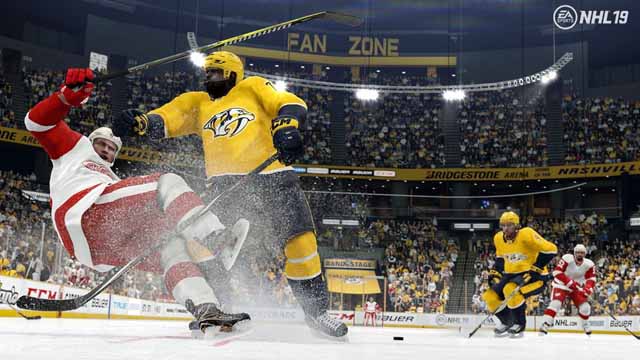 What this can tell you about the Leafs, however, is that in the forthcoming game, they might be pretty nasty to face online as Toronto features three players within the title's top 50 players in
Tavares, Matthews and Frederik Andersen
who is rated an 88. All of those players listed above are rated a 90, like Tavares, so we're not exactly sure how these rankings work. Regardless, Tavares is rated a 90 in NHL 19 and, really, the only question you should have about that is: why not just bump up a rating stat that no one understands, like poise, to get Tavares to a 91?
A passing rating of 95 gives McDavid endless options for setting up other players, and 96 deking keeps him out of the way of defenders looking to stop him at all costs. If it seems like the overall player rankings are lower this year, it's because they are. EA Sports wanted to make more room for growth during the season.
It's nice to see a goalie make the list in
Cheap NHL 19 Coins
. And if you're a Lightning fan, you've got to be pretty chuffed with your players taking three of the top ten spots.