As time goes away, there are just less than two months to see NHL 19 on September 14 around the world. As a fantastic ice hockey game, NHL series offer gamer the most realistic experience and EA Sports is going all-out to make it become their biggest NHL game. However, although EA Sports has released and updated some new game modes, new functions, and an update to the graphics, there are still many fixes that EA have simply neglected for a number of years. So today, for the newest edition of the game NHL 19 is about going to be released, here we give five things that we want to see in NHL 19 and they are also the fixes that EA overlooked for a long time.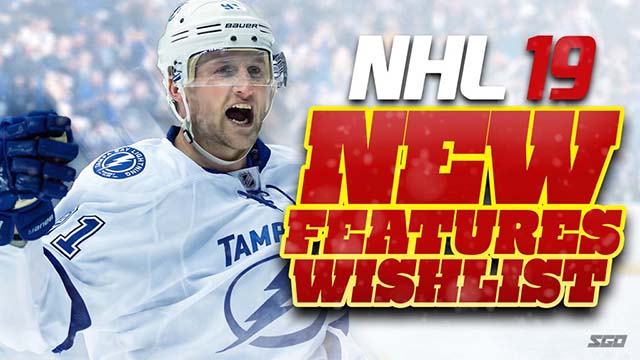 A Search Engine
If you have ever played NHL games, you may know that one of the most time consuming and irritating factors of playing Franchise Mode on the NHL games is the lack of a search engine
. Taking a example, if you want specific players – as most of us do – you have to find the team, select them and then trade. That's all well and good in the first half of the first season, but as the seasons tick by, the player could move, and you have to search through every single roster to find them. On top of this, if you're a few seasons in and want a player drafted a season or two ago, the chances are that you have to scan every team to find them if you now want to trade them to your team. If a search engine is added in NHL 19, which is considered to be a rudimentary function in EA Sports' other games, I believe we would see ice hockey fans rejoice across the world.
Five-Player Post-Goal Hugs
Ice hockey is one of the most physical games in the world where two players are legally allowed to engage in some fisticuffs, and yet one of the most prized moments is the team hug after a goal. In the NHL, you'll rarely see a goal scored without it being followed by the scorer's teammates piling into them along the boards. In soccer and football, players often do their little celebrations first, but in ice hockey, it's almost always a team celebration. EA's NHL games have lacked this crucial part of the ice hockey experience. The individual celebrations are fun, but fans want the team hug.
The Right Gameplay Fixes
Every year, EA announces gameplay enhancements, but they rarely correct the right elements
. For as long as many can remember, puck pickups have been a huge issue. It irritates ice hockey fans to no end. There are also smaller areas which need to be sharpened, such as poke-checking from behind. But, the scenes that often have players bashing their controllers is the behavior of the AI. The defensive AI has long been out of synch with the fluid and clean-cut play of the offense. The goaltender AIs also need a tune-up, and some variety added. For a long time now, if you're coming up against an NHL goalie, they're all very much the same bar the odd one that is right-handed – such as Steve Mason or Michael Hutchinson. Their behavior needs more character as once you've solved one goalie, you've pretty much solved them all.

Revert to the Old Ultimate Team
Ultimate Team is the most popular game mode across EA's sports games range
. We very much enjoy the dynamics of Ultimate Team but wish that EA hadn't changed the almost perfect version on NHL 14. The NHL 14 Hockey
Ultimate team
was very player friendly and encouraged a fully active market through great rewards. In HUT 14, when you completed a full NHL roster with the jerseys and logos, you would get a substantial reward of EA Pucks – the in-game currency – which would amount to a decent number of high-quality packs or good spending power in the market. Nowadays, you get very weak rewards for completing collections, making a good amount of
EA Pucks
even harder to come by if you're not a particularly skilled player. Having experienced HUT over the years, it's clearly progressed to a more money-grabbing model as opposed to the much more player-friendly version of half-a-decade ago.
More Leagues
In 2018, the first English-born and trained player, Liam Kirk, Sheffield Steelers to
Arizona Coyotes
, enter the NHL through the 2018 Entry Draft. I would very much like to see the EIHL make an appearance. Also, the KHL – which is widely considered to be the second best league in the world – would also be a fine addition. In NHL 17, we got a glimpse of some EIHL action with the Nottingham Panthers and Cardiff Devils featuring as CHL teams in Hockey Ultimate Team, but it'd be great to see the whole league represented, even if it's confined to HUT. In fact, it would be better if the European leagues were playable and accessible in other game modes, such as Franchise Mode and Be A Pro. It would be great to play through a European league in
Be A Pro
as so many of the league's current stars have over the years.
Although there are some little unsatisfied points in NHL series, EA' s NHL games are still deserved a lot of credit for their quality. So it is a necessary for us to make a try whether you had ever played the NHL games or not. And if your coins are not enough, it is our eacgame.com pleasure to provide you
Cheap NHL 19 Coins
. We guarantee that the transaction is 100% secure and fast. By the way, if you have any question about our products, you can contact us anytime!