Sea of Thieves Festival of Fishing Update 2021, Bringing Steam Friends, Challenges and Rewards
Festival of Fishing is the four weeklong events themed around The Hunter's Call in Sea of Thieves gameplay. The Festival of Fishing will run from February 25 to March 19, and it will bring some challenges and when you complete them, you will get the corresponding rewards.
Weekly Challenges & Rewards
Seek out particular types of fish in specific regions of the world. New challenges will unlock each week! Seven challenges will unlock per week, to an overall total of 21 challenges. Completing every challenge will reward the Hunter's Hero Title.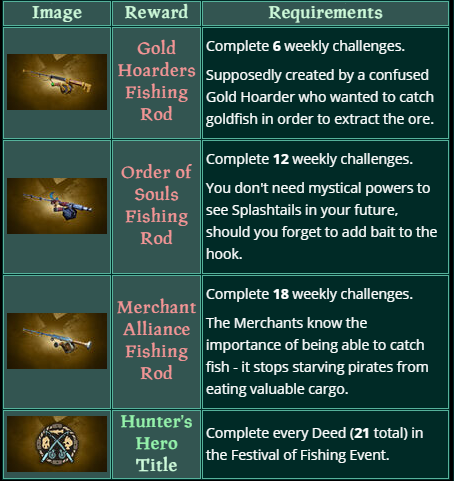 The Festival of Fishing runs from February 25th to March 18th. Aside from the fishing rods, the Dark Adventurer weapon set, instruments, and equipment will be available to buy from the Pirate Hideout. In the meantime, today's quality-of-life update has also introduced some new Charity Sails. From today, February 18th, all proceeds for purchases of the Sails of Hope will go to Great Ormond Street Hospital Children's Charity.
New ship sets and costumes are also available in the Pirate Emporium store, including the Rogue Tinkerer ship set with matching outfit, Reaper's Heart cat, various Romantic emotes, and a free 'Point and Laugh' emote. Meanwhile, the new Sails of Hope is available now, with proceeds going to Great Ormond Street.
2021 is shaping up to be a banner year for this multiplayer pirate game! You can play the next Sea of Thieves update tomorrow, February 18, 2021. If you haven't yet jumped into the game, you can get started with Sea of Thieves by buying it on its official website starting at $39.99 or your regional equivalent.
Steam Friends
Additionally, the game now has support for Japanese localization. Steam friends support was also added and brings with it the ability to add friends from your Xbox and Steam lists. You can also join your Steam friend.
Several issues were fixed including:
1. Exploding a Gunpowder Barrel on the crow's nest should now damage the mast.
2. Being revived just before you are about to die should no longer cause UI notifications to become disabled.
3. When a large group of players perform emotes together, emote animations should now display correctly.
By the way, do you need Ancient Coins? If you are lacking of SOT Ancient Coins, we 5mmo.com can also provide help.
Cheap SOT Ancient Coins for Sale
, fast delivery, 100% safe!