The latest The Division 2 Patch v1.05 has also brought an event. The event is called
Apparel Event : Invasion
, a limited time event, offering up new cosmetic items. The event is live now and lasts until May 2. During the event, players can unlock cosmetics including weapon skins, emotes, clothing, and more. Moreover, you can unlock a full Black Tusk outfit. To help you unlock the top reward, herein we
5mmo.com
offer you this handy guide telling you
how to get The Invasion Apparel Event keys
.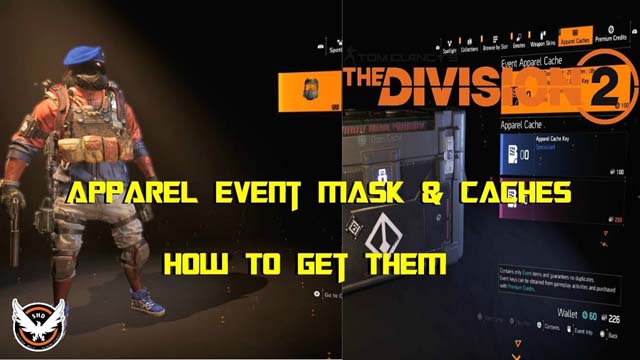 The Invasion Apparel Event Overview
The Apparel Event gives players a chance to earn and find unique cosmetic items. There are 30 items to collect in total, including outfits, a mask, nine weapon skins, and four emotes. These apparel items are new to the game, but won't be exclusive to Apparel Event 1.
Should you miss out on them during the event, you'll still get a chance to find them in Apparel Caches afterward or you can purchase them directly using Premium Credits via the Apparel Store.
How To Get The Invasion Apparel Event Caches And How To Unlock Them?
To open the Event caches and unlock stuff inside, you need to get corresponding keys for each cache. That means you don't get caches, instead, you get the keys to unlock these caches. Participate in various activities such as completing projects and leveling up. This will give you Cache Keys. You use the keys at the Cache section of the game menu to unlock the caches. If you wanna accelerate your rank in The Division 2, you can come to
5mmo.com
for
Cheap The Division 2 Credits
. With a coupon code "
5MMO
", you can enjoy 3% off.
Every player who logs in during the event's timeframe will receive one key for free. Those who own The Division 2's Year One Pass will also get three bonus keys for a total of four. So, how to find additional keys and unlock other items? We've detailed all of the ways in which you can earn more Invasion Keys in The Division 2 below:
1. Weekly Apparel Projects which task players with completing missions and activities in specific overworld districts. Completing a Weekly Apparel Project awards three cache keys.
2. Every Field Proficiency Cache a player opens after reaching level 30 has a chance of containing a cache key.
3. Players have a chance of receiving a cache key whenever they reach a new level of Dark Zone Proficiency.
4. Cache keys are available for direct purchase using Premium Credits.
So what's In These Caches?
As I've mentioned above, there is a total of 30 unique items, including 4 emotes, clothing, weapon skins, gear skins, 1 outfit and 2 masks! You will not get duplicate items through these caches. Here's a video of all the items:
The Division 2 Black Tusk Outfit - How to Get the Black Tusk Uniform?
The grand prize for participating in the Apparel Event in The Division 2 is the Black Tusk Outfit. It is granted after you've earned all 30 items from the Invasion Apparel Cache. This means you'll need 30 keys, which can be obtained using the method above.