Destiny 2 Dead Man's Tale Farming Guide: How to Get Dead Man's Tale - Exotic Scout Rifle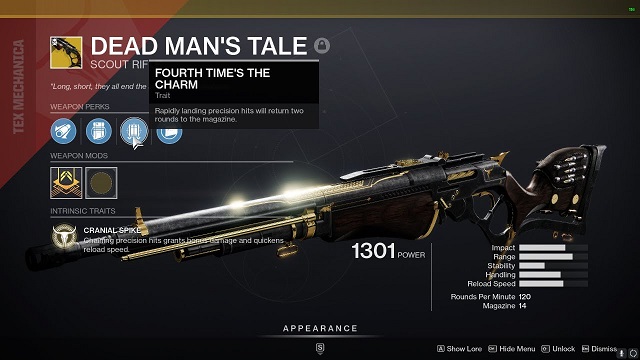 Can you still get dead man's tale? Can I still get Dead Man's Tale Destiny 2? Of course, you can get the Exotic Scout Rifle - Dead Man's Tale in Destiny 2. Here are the useful tips for you!
Destiny 2 Dead Man's Tale rolls: an overview
Dead Man's Tale is an exotic scout rifle with an intrinsic perk called 'Cranial Spike', which increases the weapon's damage output for every consecutive precision hit and allows you to reload the weapon faster. It also has various perks it can roll with. It's a simple weapon with very little pizazz, but it deals a nice chunk of damage. While it's a little too early to say what the perfect roll might be just yet, the fact that Dead Man's Tale can roll with Fourth Time's the Charm and has a magazine capacity of 14, it's a very easy roll to gun for—especially if you can get accurized rounds to help make it that bit more deadly at range. It's also a safe bet to dismantle any Dead Man Tale's that drop with the Outlaw perk because that's exactly what its intrinsic trait does... but better.
How to get Dead Man's Tale in Destiny 2 in brief
Here's a quick rundown of the steps needed to obtain Dead Man's Tale:
1. Play the Arms Dealer strike and find the Intercepted Distress Signal in the new area
2. Visit Zavala in the Tower
3. Play the Presage quest on the Tangled Shore
4. Visit Zavala in the Tower once more
There are far fewer steps than most Exotic missions - including those with cumulate in a unique mission. That said, getting the quest underway is difficult unless you know exactly where to look - while the mission itself will take you some time to complete.
Follow these tips and find Dead Man's Tale successfully in Destiny 2. Also, of you want to Buy Destiny 2 Silver, the reliable game store 5mmo.com can also provide the great help for you! Cheap
Destiny 2 Silver
for Sale, discount price, instant and fast delivery! Shop with PayPal, VISA, Credit Cards now! Final but not at the least, if you have any issues, please feel free to contact our 24/7 live support!