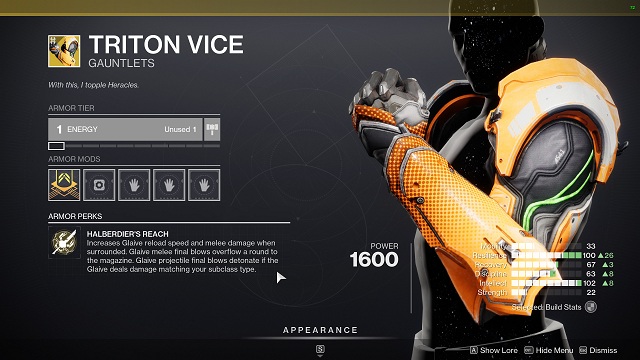 In the latest event in Destiny 2, there are new weapons and gears introduced in the game. One of these new gears is the Trition Vice, a pair of Exotic Gauntlets. Some players are wondering how to obtain this new gear in Destiny 2. You can read this article for guidance. Players can use
Cheap D2 Silver
to unlock desirable items or gears for characters in the game shop.
What's the Triton Vice Gauntlets in Destiny 2?
Triton Vice in Destiny 2 has the Halberdier's Reach Exotic perk. Halberdier's Reach increases Glaive reload speed and melee damage when surrounded. Glaive melee final blows overflow one round into the magazine from reserves. Finally, Glaive projectiles that match your subclass deal explosive final blows.
Since Glaives are not even close to being the best weapons in the game, I think Triton Vice is an okay Exotic. It sounds like it's a lot of fun to use and it could make for a very viable Glaive build, but it's definitely not the best Exotic for PvP or PvE. Regardless, I want to get this Exotic to experiment with a Solar Glaive build that dominates nearby enemies while spreading Scorch and creating a wave of Ignited foes. (Hunters might have lucked out compared to the new Exotic Warlock Helmet Cenotaph Mask.)
How to Get the Triton Vice Gauntlets in Destiny 2
Like most new Exotics, Guardians can earn the Triton Vice as a possible reward by completing a Legend of Master Lost Sector. Players will need to wait for Arms to be available to earn. Legend and Master Lost Sectors rotate each day, rewarding a different armor piece. The location also changes, so players should be aware of the schedule.
Triton Vice comes with the Exotic Perk Halberdier's Reach. This increases Glaive reload speed and melee damage when surrounded. Additionally, melee final blows overflow a round to the magazine. Glaive projectile final blows detonate if the weapon deals damage matching the current subclass type.
You can also try your hand at the RNG mines of decrypting random Exotic engrams you find in the world, or by farming high-difficulty Nightfall activities for the random Exotic armor rewarded at the end. Exotic Engrams are easier to come by these days, thankfully, as rewards for completing Vendor challenges. Nightfalls are more accessible as well, with the Pinnacle Power cap not seeing an increase with Season of the Deep. Still, I recommend solo Legend Lost Sectors, for efficiency when hunting the Triton Vice and other Exotic armor you don't yet have.
Why Do You Need Triton Vice Gauntlets in Destiny 2
The Triton Vice is an excellent choice for Glaive users as this makes it easy to kill enemies in multiple ways, especially groups with detonating rounds.
It is best to make sure your subclass matches the subclass of your Glaive to maximize its effectiveness and be sure to get up close with some enemies for ammo overflowing.
It's good to get close up and personal with a Glaive when wearing the Triton Vice Gauntlets as the melee boost can help you deal a lot of damage.
If you are willing to get the Triton Vice Gauntlets in Destiny 2, you can follow the guidance and try to complete the relevant quests for its drops. And if you need other good items, you can
Buy Destiny 2 Silver
to get them from the game shop.