Destiny 2 Weapon Guide: How to Obtain the Last Rite Scout Rifle in Season of the Deep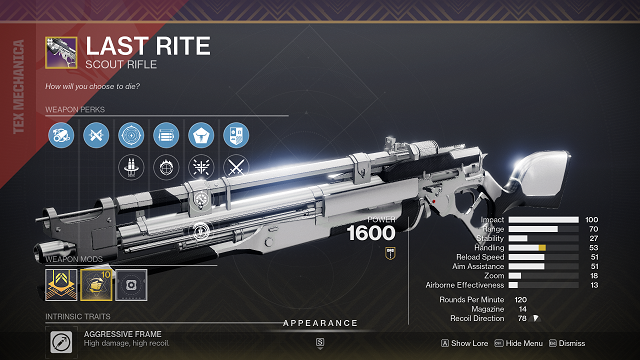 As Destiny 2's Season of the Deep releases, many players are happy to find that there are new contents and weapons added in the game. They have access to complete more quests and unlock good weapons. Many players are willing to know how to get the Last Rite Scout Rifle in Destiny 2. You can read this article to learn from the guidance. Players can use
Cheap D2 Silver
to unlock new weapons or items for characters in the game shop.
What's the Last Rite Scout Rifle in Destiny 2?
The Last Rite is a new Scout Rifle players can acquire in Destiny 2 Season of the Deep. This weapon is a ritual weapon and can be achieved in a particular way in the game. These ritual weapons keep changing every season and have some beautiful weapon ornaments associated with them.
How to Obtain the Last Rite Scout Rifle in Destiny 2 Season of the Deep
Last Rite is a Masterworked Scout Rifle that you can collect as a reward from any of the vendors for Ritual Playlist. The weapon is one of the specific Rank Rewards, which requires you to reach Level 16 in Commander Zavala's Vanguard Ops, Lord Shaxx's Crucible, or Drifter's Gambit.
In order to rank up under Zavala, you need to complete Vanguard Ops, Nightfalls, Grandmaster Nightfalls, or simply Strikes and Battleground missions from the entire system that are supervised by Zavala.
For Lord Shaxx, you need to play Crucible matches. Iron Banner and Trials of Osiris don't count (though you can still complete your Crucible bounties in these game modes).
For Drifter, you have to work on banking motes in Gambit to make the vendor happy and raise your rank.
Keep in mind that Rank Rewards change for each vendor whenever a new season arrives. So, if you do like Last Rite, you need to collect it through one of the vendor progressions before Season of the Deep expires.
Last Rite Ornaments in Destiny 2 Season of the Deep
As with all previous ritual weapons, Last Rite has three ornaments you can earn. Each ornament is tied to a specific playlist, unlocked upon resetting your rank once and reaching Rank 16 again. For example, the Vanguard ornament for Last Rite is earned by resetting your Vanguard Rank with Commander Zavala and reaching Rank 16 once again.
You can reset your rank by claiming all rewards from the vendor once you reach max rank. Grabbing the final reward on their reward track will reset your rank, refreshing your reward track. You'll have to do this with all three vendors to acquire all three ornaments.
Last Rite Weapon Perks in Destiny 2
This weapon comes straight out of the Tex Mechanica foundry. Moreover, it also looks quite similar to the Long Arm. However, the only difference between these two weapons is that the Long Arm sits in the energy slot while the Last Rite is a kinetic weapon.
This is an Aggressive Frame 120 RPM scout rifle and drops with the following perks:
Barrel: Full Bore
Magazine: Ricochet Rounds
Perk 1: Keep Away/ Reconstruction
Perk 2: Opening Shot/ Focus Fury
These perks have an excellent PvP and PvE balance, and it will be interesting to see how it fares in these activities once players have acquired them in Destiny 2 Season of the Deep.
Players can try to follow the guidance to get this weapon in Destiny 2 Season of the Deep. While, this weapon is randomly drops in the quests. You also need to be patient. And if you want to unlock other good weapons or items, you can
Buy Destiny 2 Silver
to get and equip them with your characters.