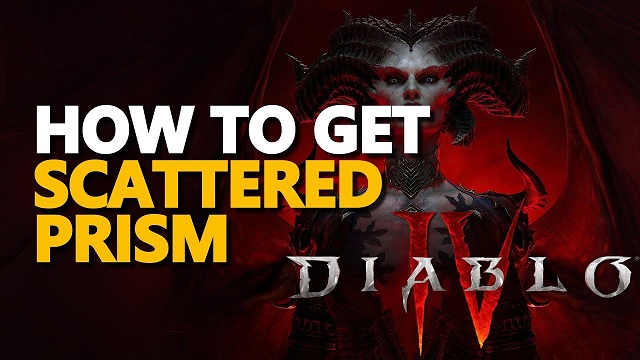 Players who want to build the best gears for characters need to find various kinds of materials in the large world. In order to create additional gem sockets in weapons, players need to find scattered prisms in the game. If you are also looking for this rare material, you can read this article for guidance. Players can use
Cheap D4 Gold
to level up characters quickly and challenge high level dungeons in the game.
What are Scattered Prisms in Diablo 4?
Scattered Prisms are Rare Crafting Materials in Diablo 4 that are used to add sockets to items, and players that want to perfect their builds will eventually need to obtain them in some quantity.
How to Get Scattered Prisms in Diablo 4
There are currently two ways you can acquire Scattered Prisms. The first and easiest way is to kill Treasure Goblins. These rare enemies are found randomly throughout the map in Diablo 4 and will run away from you at first sight. They are marked on your map as a hunched-over goblin icon and drop gold as they are running away, which allows you to track them. Treasure Goblins have plenty of health, so killing them won't be a quick endeavor.
Upon killing a Treasure Goblin, they will drop plenty of gold, crafting materials, and other items. If you're lucky enough, one of those items will be a Scattered Prism or two.
The second way of obtaining Scattered Prisms comes through defeating World Bosses. Currently, there are three World Bosses in Diablo 4, Ashava, Avarice, and Wandering Death. You cannot take on a World Boss until you have defeated the main story of Diablo 4 and you must also wait for the World Boss to appear at a scheduled time. If you manage to defeat one of them, they will almost certainly drop Scattered Prisms.
How to Use Scattered Prisms in Diablo 4
You can use Scattered Prisms to add a gem socket to your equipment at the Jeweler. You will need one Scattered Prism per gem socket that you want to add. However, do note that there is a max number of allowable gem sockets per item type, with boots and gloves having 0 chances of getting gem sockets.
How to Farm Legendary Gear in Diablo 4
While Legendary gear isn't the best way to farm Scattered Prisms, farming these high-tier items is a good fallback option in between waiting for World Bosses to spawn. If the items are good, you keep them. If they're meh, salvage them and hope for Prisms.
Legendary gear can drop from Elites, Bosses, gear caches, and from chests. This means that clearing dungeons or completing Bounties for the Tree of Whispers is the best way to farm Legendary Gear.
Dungeons
Some dungeons are better to farm than others - look for those that have few dead ends and high numbers of elites (dungeons with Animus carriers, for instance). Another option, although one that will often result in less efficient dungeon layouts, is to run Nightmare Dungeons.
Well-known farming spots include:
Anica's Claim
Underroot
Mercy's Reach
Forbidden City
Champion's Demise
The higher the level of the Legendary gear is, the higher the chance it will drop rare materials when salvaged. Obviously, you'll need to weigh this benefit with potentially losing Legendary high-level gear without gaining anything in return.
If you want to farm more scattered prisms in Diablo 4, you can follow the guidance and experiment them in the game. And you can also
Buy Diablo IV Gold
to find other rare materials in the trade market.