Genshin Impact Diluc Builds: Best 4-star & 5-star Weapons for Genshin Impact Diluc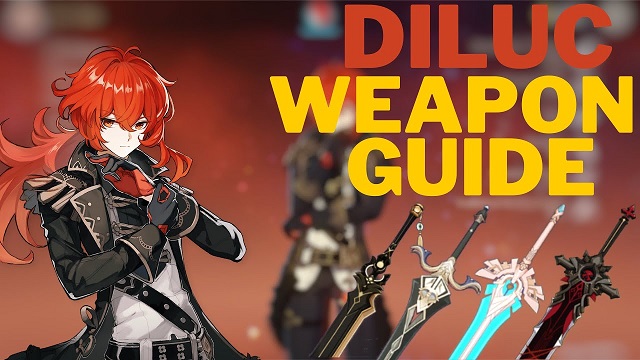 What is the best weapon for Diluc? What weapon does Diluc use? A weapon that a character use can determine the damgae of a character, the best weapons can maximize Diluc damage.
Best 3 Star Weapons for Diluc
In the early game, it's difficult to find 4 or 5 star weapons. Therefore, there are some 3 star weapons that are the best weapon for Diluc. Here is the weapon list from best to good.
Skyrider Greatsword
- On hit, Normal or Charged Attacks increase ATK by 6% for 6s. Max 4 stacks. Can only occur once every 0.5s.
Debate Club
- After using an Elemental Skill, Normal or Charged Attacks, on hit, deal an additional 60% ATK DMG in a small area. Effect lasts 15s. DMG can only occur once every 3s.
Best 4 Star Weapons for Diluc
Prototype Aminus
- The best starter weapon for Diluc is Prototype Aminus, a craftable weapon from any Blacksmith in Mondstadt or Liyue. There's one reason why this weapon is so good: Crush. The passive causes regular or charged attacks to have a 50% chance to deal an extra 240% ATK DMG to enemies in an AoE once every 15 seconds. Additionally, this is an easy weapon to refine.
Serpent Spine
- Every 4 seconds a character is active in combat, they will deal 6/7/8/9/10% more damage and take 3/2.7/2.4/2.1/1.8% more damage. This effect has a maximum of 5 stacks and will not be reset if the character goes inactive, but it'll be reset when the character takes damage.
Royal Greatsword - Upon damaging an enemy, increases CRIT Rate by 8%. Max 5 stacks. A CRIT hit remove all stacks.
Best 5 Star Weapons for Diluc
Wolf's Gravestone
- Diluc's best weapon is Wolf's Gravestone thanks to its incredible effect that grants all party members a damage boost of 40% when targeting weakened enemies. A cheaper alternative to this would be the Prototype Archaic, a four-star weapon which has a 50% chance of dealing an extra 240% attack damage to enemies. Though this certainly isn't as good as the Wolf's Gravestone, the Prototype Archaic can be forged at a Blacksmith and doesn't involve any gacha mechanics.
Are you already having Genshin Impact Diluc in your inventory? If not and you are still want to get him, you can come to 5mmo.com and find Cheap
Genshin Impact Accounts
for Sale with this 5-star character. Trusted and Verified Sellers, 100% safe!