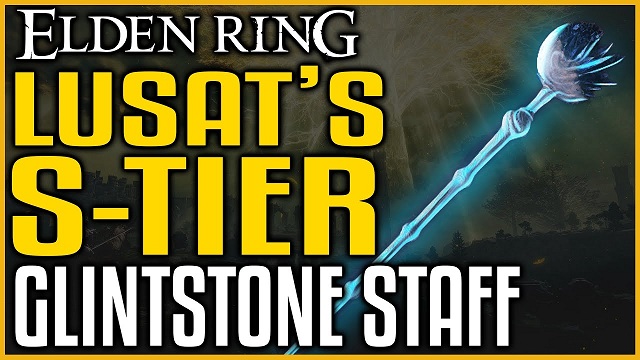 Many players are willing to build their characters based on Magic in Elden Ring. And there are also different sorceries to find and learn in the world of Elden Ring. Meanwhile, players can learn to use summons and Incantations, which help them defeat the enemies in different ways in the Lands Between.
In order to use sorceries, you need to find and equip a staff at first. There are many different kinds of staves for players to find in Elden Ring. One of them is Lusat's Glintstone Staff that has a high scaling in Sorcery damage and scales well with Intelligence, which makes it become the perfect weapon in the game. You can read this article to know how to find Lusat's Glintstone Staff in Elden Ring. Moreover, if players want to other useful gear for your character, you can buy
Cheap Elden Ring Items
to find them in the itinerary shops in the game.

Where to Get Lusat's Glintstone Staff
Lusat's Glintstone Staff is located within Caelid, the region east of Limgrave that inexperienced Tarnished should avoid until they've attained Level 60 or higher. Specifically, the staff is stored within a chest within Sellia, Town of Sorcery, and guarded by a duel mini-boss, the Nox Swordstress, and Nox Priest. Moreover, Tarnished cannot face these guardians until they've broken the magical seal of Chair-Crypt of Sellia.
To reach Lusat's Glintstone Staff, players will need to first venture into Caelid. There are multiple paths that can be taken to reach Sellia, Town of Sorcery, where the staff resides. The first is for players to find a particular chest and open it, which will ensnare them in a trap and transport them to the Sellia Crystal Tunnel, which they can then exit immediately to find themselves across a "lake" from Sellia Town itself. This chest is located in the Dragon-Burnt Ruins in Limgrave, near the area where players start their journey.
That area is called Sellia, Town of Sorcery, and there are plenty of enemies here that have a Glinstone Staff of their own. But it's not them that you need to worry about. Instead, the goal is to light all of the torches found in the towers. Use Torrent to easily jump across the rooftops to reach every flame.
These towers are easier accessible by using Torrent as his double jump ability to make it across some buildings. After you light all three of the respective towers, you can now travel to the Northwest section of Sellia where you will find a fog wall that leads to a duo of bosses.
The Nox Swordstress and Nox Priest duo is made up of a female warrior and a male spellcaster. If defeating one boss in Elden Ring wasn't hard enough, you will have to defeat both in order to receive such a powerful Staff.
As Tarnished ignite each flame in Elden Ring, a few magically sealed rooms in the town below also open. However, jumping down will risk a fight with the ghostly sorcerers, so players only looking to acquire the staff should return later to explore the village. After lighting all three braziers, go to the vault northwest of the town to fight the Nox Swordstress and Nox Priest. After defeating them, players will be rewarded with the Nox Flowing Sword. Enter the small crypt and open the chest inside to receive the Lusat's Glintstone Staff.
The Lusat's Glintstone Staff may help you a lot in the process of completing quests or combating with bosses. You can get it through the guidance and equip it for your characters. And if you demand other essential potions, you can
Buy Elden Ring Items
to get them from the local merchant around the church in Elden Ring.